It takes a certain type of mind to win over one million in cash and keep playing as if nothing happened. It took a while to convince this Rizk Casino player that he was, in fact, a brand new millionaire…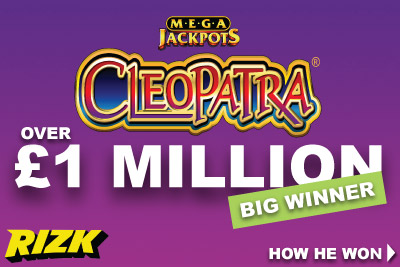 18+
There are not that many big multi-million jackpot slots on mobile out there.
You basically have Mega Fortune and Mega Moolah, and then occassionally, the IGT Megajackpots slots sometimes get to over a million from time to time.
So you might be forgiven for thinking that maybe you hadn't won that much.
But to completely ignore all the signs of winning a casino jackpot and continue playing as if nothing had happened? Now that takes some effort.
3. Reasons Our Big Slot Winner Didn't Notice
Unlike our usual big casino slot winner stories, we feel we should use this story as a word of warning to all cynical slots players out there.
Get 10 Free Spins or £€$25 in Free Bonus
Get a mystery no deposit bonus at Rizk casino, the moment you sign up, no deposit needed.
Because our 45 year old winner didn't think he'd won because… he just didn't think it could happen to him.
So here's the 3 myths of jackpot slots wins debunked by one big player at Rizk mobile casino.
1. I only started playing at the casino a short while ago!
This is, by far, one of the most used reasons by players as to why they haven't won that big jackpot slot yet.
Somehow, they think that there's a little man in the casinos, controlling every big win, and only paying out to loyal players who have spent millions.
When in fact, if you read our big winner stories, you'll see that 50% of them come from either total beginners or those who've only been playing for a few months.
Our Jackpot slot winner had only signed up at Rizk a month ago, so as far as he was concerned, this couldn't happen to him.

2. But I've played the game a million times before and never won
This generally happens to long term online and phone slot players, especially those who know their games.
Specifically, you play on jackpot casino games, not to win, but because you like the slot machines in question.
Big Jackpots Right Now
Mega Moolah at 6 Million
Hall of Gods at 3 Million
Isle of Plenty at 688 thousand
Arabian Night at 338 thousand
The Megajackpots that got him the win is the Megajackpots Cleopatra slot, and it's just a good game.
Of course he knew about the jackpot, otherwise he'd just play on the original Cleopatra mobile game, which is the same but without the big ticking prize pot.
But just before that, he'd been happily spinning on Cleopatra Plus, which takes the theme but changes all the wins and mechanics.
And those two aren't even his favourite games: "It's not all about the jackpot. My favourite games are Gonzo's Quest and Wild Turkey," stated our winner.
If you are not a jackpot hunter, you don't expect the jackpot to trigger.
3. It could never happen to me
But, despite all that, slot machines have a way of making sure you notice when something big happens.
And it's not just on jackpots. Just getting 15x your bet sometimes gives you fanfares and whistles – look at any Thunderkick slot game, for example.
Surely this Cleopatra Megajackpots slot gave our winner a little clue?

"Yeah, I saw some fireworks and so on, and I saw the amount 1 million and the game stopped, but the only thing I was thinking was 'that this sort of thing doesn't happen to me' and 'that the jackpot must've been won by somebody else,' so I just muted the game and kept playing," continued our 45-year-old winner.
Which just goes to show. Sometimes your biggest enemy is yourself. A little optimism can go a long way.
What happened when Rizk casino told him
So when did our deluded winner finally realise that he was now the owner of a cool million in cash?
When Rizk casino called him to congratulate him.
It was, should we say, a surprising phone call for everyone involved, including the Rizk customer services representative who had to convince him that he'd won.
He would have found out eventually
Of course, the moment he tried to cashout, our big winner would have noticed that there was a few more zeros in his account than he started with.
But you can't help but wonder exactly how long it would have been before our big winner actually noticed that something funny was going on with his casino account.
Either way, he was planning on returning to Rizk soon enough, thanks to everything they have to offer.
"So what keeps me coming back to Rizk Casino? Well, even now that I'm a jackpot winner I will come back for more Wheel of Rizks and Rizk Races… it feels like there's always something extra involved." he said.
Try the wheel of Rizk for a no deposit bonus!
Chances are, you are now wondering what the Rizk Races and the Wheel of Rizk actually are.

Other Reasons to Love Rizk
Cashout win in 3 hours or less
Play in GBP, EU, SEK, CAD and more…
Huge selection of games from different providers
Easy to use mobile casino site
Rewarding loyalty program
The Rizk races are basically free casino tournaments that happen every 30 minutes, allowing you to win free spins bonuses and cash prizes.
It's really easier to join in than to try and explain it.
On the other hand, the Wheel of Rizk is their unique reward concept which you can get involved in the moment you sign up.
Because you get one free spin on the wheel, giving you a free casino bonus of anything from 10 free spins to £€$25 in cash.
The more you play at Rizk, the more spins of the wheel you'll get, rewarding you with bigger, better, bonuses.
What would you do with a cool million in cash?
It's not quite 'tell your boss exactly what you think and run away from your work laughing' win, but it's still enough to change your life.
For now, our big winner who never thought it could happen to him, is being fairly quiet and careful about it.
"So far I've only told two of my work colleagues and two family members that I've won a Rizk Casino jackpot and that I'm now a millionaire. As far as plans go, I'm going to do some renovations to my apartment and I'm probably going on a trip to Australia," he said.
After all, it might never happen again. Or it might.
Like we said, optimism goes a long way towards helping you have fun at any good casino online or mobile.
Try your luck with a free spin on the wheel of Rizk and see what your optimism brings you today.
Exclusive: Mystery Bonus + 200% First Deposit + 50 Extra Free Spins