Hilton beats the boss (Verne Troyer) at BGO casino and walks away with a huge £3.8 million jackpot after making a £10 spin. And no, it's not that Hilton.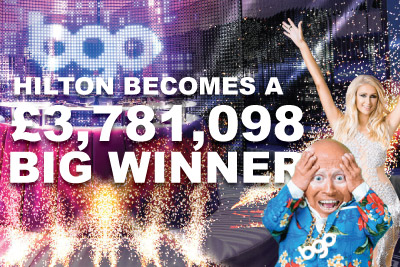 18+
We love a good coincidence.
And we love a good big winner slot story. Put the two together and this article practically writes itself.
So whilst BGO casino is not one of our regulars here at LuckyMobileSlots.com (for no other reason than you can only currently play in GBP, but accepts players from all over the world), this story was too good to pass up on.
Especially as it comes with a funny little video made especially for the occasion.
So let's have a look at how and who won on the mobile Playtech jackpot slot Beach Life.
Hilton smashed the Boss over 4th of July weekend
Now, in order to set up this YouTube video you need to know a few things about the BGO mobile casino:
Verne Troyer (aka Austin Powers Mini-Me) is the brand ambassador. ie. He's the titular boss you have to beat whenever you play at BGO casino, by winning on the casino games. Hey, at least it's not a boring brand, right?
Only last week a new TV ad was launched in the UK, featuring none other than Beverley Hills heiress Paris Hilton as brand co-ambassador.
Ok, you can watch it now.
Get it?
The jackpot slot winner was called Hilton? But not Paris Hilton?
What? Not even a little smile?
Come on, that's got to be a one in a million coincidence that just one week from launching the brand new TV ad, the jackpot winner of one of the biggest Playtech jackpot video slots was also called Hilton.
No?
Tough audience, tough audience…
Get Your BGO Welcome Bonus
Get up to 50 fair free spins with no wagering requirements when you deposit £€$10 or more – T&Cs Apply
"I'd personally like the congratulate the player. This is a very exciting win and a life changing amount of money for anyone."
Continued Ohad Narkis of BGO.com: "The Hilton similarity is ironic and actually quite funny as we just launched our new TV campaign starring Paris. This win really puts BGO on the map as the best site to play online casino games and slots." 
Moving swiftly onwards, here's a little bit more about our winner from Nottinghamshire who isn't blonde, female, or already loaded with cash.
Although who knows? Perhaps this is a very clever ruse from Paris to get some extra pocket money for a night out?
Though based by the reaction of our winner, we kinda doubt it.
£3,781,284.34 won on a £10 real money slot spin
That's basically £3.8 million, give or take a few thousand.
But what's a few thousands between friends? And if Hilton, from Nottinghamshire, is reading this article, we'd like to say that we would be very happy to get friendly.
He bet how much now?
If you click the link at the top of this page directing you to the Beach Life slot review, you might have noticed that we only gave the game 2 stars.
Funnily enough, because we suspect most of you just clicked, glanced, and came back (or didn't click at all), it's not because the Beach Life mobile slot isn't any good.
It's because it's very restrictive. And by that we mean that it only has one betting option – $€£10 a spin.
So Hilton wasn't doing a 'bold' bet, so much as the only bet he could make.
Find your perfect jackpot
We've got a full list of all mobile jackpot slots, Playtech or otherwise.
And whilst we've seen big slot winners bet more than 10 a spin to win far less, we just felt that for a machine to be truly great, it has to allow players from all walks of life to play along.
We're like the republican party of slot reviews sites – you can give an advantage to big better by saying that the jackpot slot will trigger easier on a big bet, like currently bursting Mega Moolah for example, (those multi-millions progressives have to come about somehow), but you got to give the little guys a chance too.
It's only fair.
How he triggered the Beach Life jackpot prize
A 20 payline 5 reel slot, Beach Life is perfect for the UK heat waves we've been having lately.
Ice cream cones, sun tan lotion, surfing waves and diving deep underwater for buried treasures… this is for summer lovers who dream of escaping the little island of Blighty for sunnier climes.
It's also a ridiculously simple slot machine. All you have to wait for here is a simple click me bonus that will have you ticking along, all to help you play as long as possible.
In the hope that if you play for long enough, you'll trigger the jackpot, the same way Hilton did.
By lining up 5 wild symbols on an active payline.
What will our happy winner do with £3.8 million?
Hilton, for good reason, has chosen to keep his personal details to himself.
However based on his reaction we suspect he's single, fairly young, and just an all round awesome guy for his family.
"I'm still in shock" said Hilton "Things like this usually happen to other people. I don't have big plans to spend all the money but my Mum and my Dad will be getting their bungalow. My nieces and nephews will be getting a good start in life. I may even take a short break and treat my best friends.. WOW, I'm still shocked".
That's the right priorities in our opinion: parents, family, and friends.
Well done on beating the Boss with one amazing jackpot spin Mr Hilton.
Look likes you can now make the Beach Life holiday a reality.