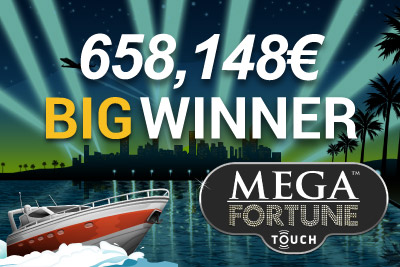 18+
How we love a good big winner story. Even more so when it's on mobile and when it's on a NetEnt mobile slot, easily some of our favourites.
Why does winning big on your mobile double the pleasure? For us, it's because when you are playing on your laptop or desktop computer, you know that you are going in and sitting down for a good half hour to an hour of solid casino entertainment. That's the goal. And in your hearts of hearts you hope to win. That's the point.
Stolen moments on mobile jackpot slots
When you are playing on you mobile or on your tablet, chances are, you are probably doing something else instead. Or at least, we often are. Time is such a precious commodity these days, sometimes multi-tasking is the only thing that gets us through the day.
The kids need to go somewhere again, the plumber has come over to fix something, you have to finish that dissertation / big work project /full scale production of fiddler on the roof. Whatever the reason, life is busy, and sometimes, just sometimes, it's fun to sneak away for five minutes of spins on your mobile or tablet.  Even if it's whilst being forced to watching the Real Housewives of Blah blah or enjoying the peace and quiet of a locked bathroom.
The point is, those stolen mobile slot betting moments are just that; stolen moments. You hope to win big, but the goal is really to just get away from it all for a few precious minutes and spin a few minutes of entertainment.
So when that progressive jackpot slot hits… that stolen moment becomes the sweetest moment in the world.
Mega Fortune slot hits a 658,148€ win on mobile
Sure, it's not the 17.8€ million record breaker this slot holds, but you'd be lying to us if you didn't think that winning that 658k on Mega Fortune Touch jackpot slot wouldn't change your life. Come on. That's one hell of a win.
The lucky Swede in question could have been doing anything at this point. We don't know. Perhaps he was too stunned by the win to manage an interview, maybe he is now jetting off to Bermuda to get away from the Swedish snow storms.
Either way, we are very happy for him and wish him all the best. The record for the biggest online mobile progressive jackpot is still being held by Mega Moolah from Microgaming at an impressive £3.7 milllion win, but we'll bet that Mega Fortune will soon find it's mobile winners.
Love Mega Fortune and want to know where to play on your mobile? We are big fans of Vera & John who exclusively give Lucky Mobile Slots readers 10 free spins on Starburst slot and a higher deposit bonus of 100% up to €£$500.  Guts Casino is also a current favourite with 100 free spins once you deposit.
Who knows? Maybe you'll find yourself on our next wall of big winners news.