If you are dreaming of catching some rays on a beach, now's a good time to take a look at some of the best summertime themed slots on our list.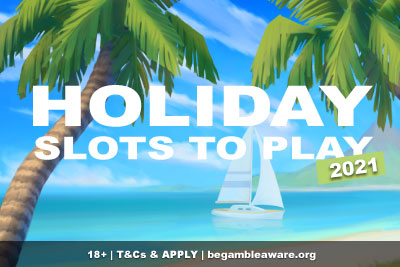 18+
We have reached that strange time of year where the weather has been miserable for many months now and the days don't really seem to be getting any brighter. Summer still feels like a lifetime away, at least in the Northern hemisphere.
When stuck in this rut, many of us are dreaming of a holiday somewhere sunny.  Normally, now is the time of year when we would start browsing the travel agents, but not this year.
Thankfully, if you're wanting a little break from real life and the winter that feels like it has gone on forever, there are some brilliant mobile slot games to play that can take you away, virtually, to somewhere sunnier for a while.
You never know, you may even win enough to actually book yourself the summer holiday you've been dreaming of. You know, in 2022.
Meanwhile, be sure to take a look at some of these mobile slot games to cheer up your February.
Sam on The Beach Slot
If you've ever played the Electric Sam slot before, then you will recognise the main character of this game. However, this time around he is visiting family in the Caribbean.

The light and bright theme of the Sam on The Beach slot game will transport you to paradise and the Elk built-in slot strategies will keep you entertained.
With the ability to win over 2,000 times your bet, it is definitely worth a spin or two and there will be a special place in your heart for these quirky summer trolls.
You might like: check out more Elk Studios slots.
---
Beach Babes Slot
As the name suggests, this is another online slot game that will take you straight to the beauty of the sun, sea and sand. The Beach Babes slot is everything you'd expect from its name.

This is a fairly straightforward game to play and there aren't many in-game bonus features to get to grips with, but nevertheless, it can give you some high thrill wins.
This fun and lighthearted theme is perfect if you want to forget about winter for a while and it will give you that hit of sunshine you're looking for.
Play at Grand Mondial Casino »
You might like: check out our Microgaming slots list.
---
Tiki Fruits Slot
When you're wanting to play something slightly different, the Tiki Fruits slot is perfect to turn to.

With 8 reels and 10 rows, it is almost unique and it creates some brilliant chain-reactions of massive wins, so the holiday you're dreaming of might not be out of your reach.
There is so much going on in this colourful slot, you will likely have a lot of fun spinning away at this Tiki bar – just remember to keep an eye on the cocktail counter and your budget.
---
Summertime Slot
This mobile slot game will be one that you instantly feel familiar with, even if you've never played it before. It's a simple 9 payline, 5 reels game with wilds, scatters and free spins: a classic.

Whilst the Summertime slot theme is more like a traditional fruit slot than a summer holiday slot, it is still worthwhile playing and it's bright cherries, plums, lemons and oranges that will put a smile on your face.
After all, who wants to use too much brainpower on holiday anyway?
Play at Grand Mondial Casino »
You might like: check out our list of Microgaming casino sites.
---
Wheel of Fortune Hawaiian Getaway Slot
Wouldn't a Hawaiian getaway be nice? Well, like the many other IGT Wheel of Fortune mobile slot games, this could actually get you there.

This sunny summer slot features flowers and palm trees, so it is the perfect exotic location game and it won't disappoint in terms of its theme.
As a medium volatility machine, when the wins come fairly frequently in this Wheel of Fortune Hawaiian Getaway slot, and the generally tend to be worth your while.
---
Gorilla Go Wilder Slot
This is another game where you will recognise the main character. If you have played the Gorilla Go Wild slot before and enjoyed it, then this is definitely one for you.

With lots of brilliant bonus games to keep you intrigued, the Gorilla Go Wilder mobile slot game is one of those machines that you can easily spend hours on.
Even more intriguing, the RTP actually increases the more you play, which can work to your advantage. Patience is definitely key with this game though and a decent bankroll will help too.
---
Playing holiday-themed mobile slot games
No matter how fed up you may be feeling about the weather outside, it goes without saying that the different mobile slot games mentioned above can give you a little much-needed break from your day to day.
Whilst you might not be able to jump on a plane and feel the sun on your face, spinning away on one of these slots is the next best thing.
You don't even have to pack, just keep your fingers crossed for a big enough win to actually book yourself that holiday you've been dreaming about.
If you're wanting to find out more about any of these holiday-themed mobile slot games or you're looking for some others that you can play, be sure to check out the rest of the Lucky Mobile Slot website. We have reviewed a huge selection of different slot games and mobile casinos online, so you can trust us to tell you everything you need to know before you start playing.