Signed up to Casushi? Maybe you've read our Casushi casino review but want to know a little more before you commit to playing there long terms?
Or maybe you've put your first deposit and wondering when and how you climb levels.
The idea seems simple enough: you play, every bet makes you go up levels, and when you get to these levels, you get rewards. But then there's also a mini-game and different points you can win. So what?
Well, we tested it, we've looked into it, and here's everything we know about the Casushi casino loyalty program.
The Casushi Train Loyalty Program
You don't have to love raw fish to love Casushi or the rewards on offer as a long term UK casino player. As we said, the idea is fairly simple:
Play any of their hundreds of slots online  and watch your loyalty bar increases with each bet
Reach level 1 and win Casushi Points on the Sushi Train Game
Spend Casushi Points on free spins in the Casushi Shop
Keep betting to reach level 2 and beyond
In essence, it's very similar to many online casino loyalty programs out there – the more you play, the more points you get, the bigger your rewards. The difference here is in the Sushi Train Game.
What is the Sushi Train Game?
We're glad you asked. Remember how in some sushi restaurants you get a conveyor belt of sushi going round and round, and you can pick whatever you like as your sit around the bar?
Well, it's not dissimilar. You have a 3×3 grid of Sushi to start with. When you reach a new level, that Sushi train will get the reels rolling and you'll get new sushi showing on your card.
Depending on what winning line you get using the sushi, you'll get points.
What sweet, sweet points can I get?
Different slices of sushi are worth different amounts. And if you don't know your sushi from your elbow don't worry, the Sushi Train will tell you exactly how much you've won, you don't have to guess.
The number of points you can win per level range:
10 points
20 points
50 points
100 points
250 points
500 points
1000 points
1500 points
2500 points
Now if you reach level 1, chances are you'll get 10 points because life is like that sometimes. But theoretically, you could win 2,500 points on your very first go on the Sushi Train.
It is a gamble, but it's also a loyalty program. The more loyal you are to Casushi (ie. the higher the levels you reach) the more points you are likely to win in the Sushi Train.
You have to pay out for a couple of seared tuna steaks to get to the salmon roe.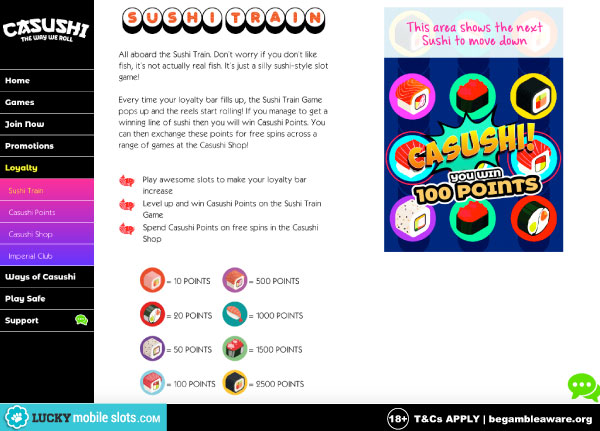 Spend your points at the Casushi casino shop
Not unlike the Vera and John loyalty program (who is not a UK online casino, unfortunately) once you have your points you get to go shopping.
As the Casushi master says "exchange your Casushi points for yummy free spins" and free spins is exactly what you get.
You can save up your points and get better rewards later, or you can spend them straight away. If you are wondering what the difference is between some of what's on offer, it's all about the value of the spins.
And because the casino games may change in the future, we are going to give you an idea of what's available, but of course, bear in mind that new slot games, new rewards, and one-off promotions happen all the time.
What you can get for 10 points:
Congrats! You've reached level 1! Are you eager to spend your points? Of course you are.
What you get is exactly what you would expect – 10 free spins no deposit casino bonus at 10p a spin.
Think games like the Aloha Cluster Pays slot or Starburst. Fun, easy win games, with a low minimum bet, that will give you instant results in a very short amount of spins.

What you get for 20 points:
Alright, here the selection gets a little more interesting, but it's still not massively different.
You can either get 20 free spins at 10p a spin or 10 free spins at 20p a spin.
Do you want to play for longer at a lower bet, or play short but win more? You'll be asking yourself this question a lot as you go through these points.
What you get for 50 points:
At this level, you get more choice. You can get 10 spins at 50p or 20 spins at 25p a spin.
See how this is working out? Basically, you still get the same kind of choice and the same kind of games, but at a higher level.
What you get for 100 points:
Ok, now we are cooking.
Now you can choose between 10 spins at £1 a spin or 50 spins at 20p a spin – a significant difference in terms of risk and what you are willing to play for.
The games also start to get more interesting, because they can offer you more spins. Games like the Jack and the Beanstalk slot start appearing – a little more volatile than your BerryBurst games or Starburst machines.
What you get for 250 points:
Well hello, Twin Spin slot. How nice to see you as a free spin bonus game.
Here the amount you can win is significantly higher. You can choose to play 20 to 25 free spins at around the £1 to £1.25 a spin.
At this point, Casushi knows you want to win big or go home.
What you get for 500 points:
You are truly a Casushi convert at this point so you know the offers are getting really good.
We are talking about playing 50 spins at £1 a spin on games like the Gonzo's Quest slot, or even 25 spins at £2 a spin on Shaman's Dreams.
If you don't know what you like by now, you might as well quit and go play Slingo instead (a game you'll also find at Casushi).
What you get for 1000 points:
Here you'll find around 50 to 40 spins at around the £2 mark.
The games can win you upward of 500x your bet, meaning the potential to win £1,000 in bonus cash in a single spin, if not more.
What you get for 1500 points:
Not as much choice in the top echelons, but that's because this is all about getting you the biggest and best experience on top popular games like the Fruit Shop slot.
So how does 50 free spins at £3 a spin sound? Pretty good? Bet it does.
What you get for 2000 points:
Not satisfied? Want more?
If 100 free spins no deposit needed played at £2 a spin doesn't bring you satisfaction, nothing will.
Granted, the game is likely to be a little less volatile than most, but that's enough spin to satisfy almost any gambler.
What you get for 2,500 points:
Almost any gambler, but not the top-notch gamblers who only want the biggest and best.
So how about 125 free spins played at £2 a spin? Not a huge difference to the 2,000 point bonus? So why collect an extra 500 points?
Because the Casushi offer that will draw you in is the 50 free spins at £5 a spin on one of the most popular and big win machines around.
If you want to know what it is and get those spins, there's only one place to play today.
Head on over to Casushi and start spinning.
Start Playing at Casushi »
100% up to £50 + 50 Free Spins
T&Cs Apply