How Lucky Mobile Slots Uses Cookies
---
If you've browsed sites around the European web, you might have seen notices asking you to accept the use of cookies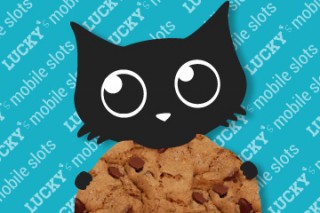 What is a cookie, you ask?
Well an internet cookie is not chocolate chip based (I know we were disappointed too) but instead they are a small piece of text that is transferred to the browser you are using by the website you are visiting. They are used to help the website – in this case Lucky Mobile Slots to remember a little information about your visit.
All information stored in the cookies is anonymous, meaning we don't know who you are, we don't know your eye or hair colour, or even your pets name.
Why do we use them?
Here at Lucky Mobile Slots we want to make your experience the best it can be. That means faster page loading speeds, so you can get to the mobile slots and casino reviews you want to read quicker and easier. We also want to be able to see how many people engage with our site, what pages have the most visits and what content might need to be improved via the use of analytics. This not only benefits us but also you by being able to get the most relevant information you need.
Third party cookies
We sometimes might embed content from other sites including videos from YouTube, sharing tools from Twitter and Facebook or other websites. These sites might use cookies to present their information to you. Lucky Mobile Slots do not have any control over the placement of these cookies. We recommend that you check the third party's website for more information about their use of cookies.
If you aren't convinced that cookies can make your life easier then each browser you use allows you to set how you use cookies. From allowing all cookies through to only websites you trust you should be able to set them individually in most cases. Check your browser for individual settings.