Sky Vegas reward you for playing in £/€10,000 prize draw.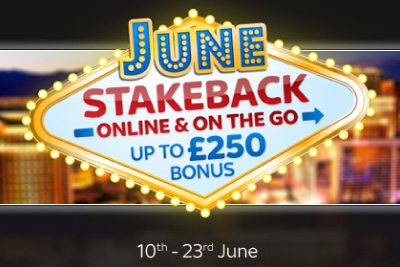 Expired
18+
797 lucky players could win a share of a £/€10,000 cash prize at Sky Vegas. So what's the catch? you have to earn 200 points playing from now until the 23rd June.
How do you earn points? Every £1 you spend on slots = 1 point. So, in short, over the next two weeks, you have to spend £200 at Sky Vegas to be in the prize pool.
Easy to do, but not for everyone. The terms and conditions are rather friendly however, so a good one for active daily players who want to get their thrills at a top notch casino. Best yet? These points are added up whether you play online or on your mobile or tablet.
How will the prize be divide?
2x £250.00
4 x £200.00
4 x £150.00
6 x £100.00
16 x £50.00
20 x £25.00
80 x £20.00
260 x £10.00
400 x £5.00
What terms and conditions should I watch out for?
Be warned, not all games are included – if any of the following are your favourite, best avoid (none of these are mobile however): Celtic Spirit, Poker Keno, Texas Tea, Texas Hold 'em shootout, Texas Hold 'em bonus, Triple Chance Hi-Lo Mini Game and Caribbean stud poker.
Equally you must enter the Sky Vegas promo code STAKEBACK when you register to play, or opt in once you've logged in via the promotional page. You will not be entered into this promotional automatically – this is important if you go ahead and start playing. This is especially important as there is no way to track how many points you've accumulated, but you will be emailed every Monday with the total point gained. Not the most effective, but we are tempted to ask their live chat team as we go along and see if they can give us the results on the spot.
Another thing to bear in mind is that slots are the only games worth 100% of the bets. Table games will only bring you 10% (so you'll have to bet £2,000 if you play Table games only) and Instant Win games 50% (£400 worth of bets).
So what do we think?
Getting rewarded for playing? Hell yeah.
The amount of points reached might be out of reach for the more casual player, and it might mean forsaken playing at some of our other casinos for the next two weeks, but it's a generous offer especially if you love the Sky Vegas games. No great sacrifice and a large enough pool of winning players that your odds could be good.
Any money you win has a wagering requirement of x1. So you just have to play the money once in the casino to withdraw it.
All in all, we like the casino itself well enough to chance it, but we recommend this one for hard core players only as the amount is high and the winnings might only have a wagering requirement of one, but it does mean you have to play it through the casino. Any money won that we can't withdraw straight away get's put as 'play money' in our head rather than 'winnings' – that way, if we lose it, we never really had it in the first place.