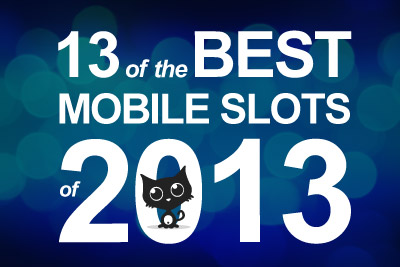 18+
There were tears. There was drama. There were highs and lows. But after a long night of discussions which ended with the near ruin of our working relationship, we have come up with our definite list of the 13 top mobile slot releases of 2013.
Our criteria was simple. They had to work equally as well as an Android slot as an iPhone or iPad slot. They needed to have ranked at least four stars by our high standards. Finally, and this was the most difficult decision to make, by 'new' we decided that they had to have been 'new' to mobile. i.e. they have to have been released in 2013 on a mobile casino platform, though they might be old online slot games that have now made their way to some of our favourite mobile casinos online.
You may disagree with our decision, but sometimes the classics are the best. As it is, it was difficult to make the choices we did, with many great mobile slot games catching and holding our attention this year. Our top two was a particularly heartbreaking decision to make, but it was the right one.
(Maybe.)
Our 13 Best Mobile Slots Released in 2013
For dramatic purposes, we shall go from the least to most interesting. Why? Because we are the ones writing and you're the ones reading. If you want to skip to the end, we can't stop you. But then we suspect you're the kind of person who reads the last page of a book before starting, so there's no hope for you.
The only Playtech slot in our list, Mr Cashback makes it in to our top 13 by the scrape of it's shiny white teeth. The feature of giving you your cash back if a payline doesn't pay in 50 spins is just the right kind of genius to keep us hooked.
Those cute little wild foxes scrambling across your screen is not the only reason to love this well made NextGen mobile slot. With superbets allowing you to choose the variance of the slot and some great graphics, this is some wholesome (over 18's) family fun.
This was a surprising little gem that just came out of nowhere. Super Safari has one wild free spins with some great multipliers, making this one of the few NextGen slots with a higher variance than usual.
With a title like that, what's not to love? Nothing like some robots in disguise to bring you back to childhood, and yet the graphics, sounds and wins are very much firmly matching everything you've come to expect from the 21st Century.
Worship at the alter of the Popcap Tiki gods as you play on one entertaining, if simple, mobile slot. You'll be praying to the wild symbol for most of your game, with a potential 10x multiplier when it replaces any symbol on the board.
One of the two classic slots to make it to our list, this BetSoft beauty has all the 3D graphics we've come to expect from this casino slots provider, without the slowing down issue. As close to the ol' style vegas classic liberty bell machines as you can find on mobile.
A five star NextGen slot, this fun mobile slot is far more fun on mobile than online. It only has free spins to give, but boy does it like to give them, again and again and again and again. One magic potion we will gladly drink.
Microgaming's first entry to the list and it's with the well deserved classic slot Break Da Bank. The betting limit is a little high for newbies, but once you've learnt how to handle your budget, this slot has some great wins hiding in it's spins.
This slot looks and plays like it was painstakingly and lovingly crafted by a master slot artist, and we expect no less from the granddaddy of slot machine makers, IGT. With 1024 ways to win it's not cheap, but then neither is this mobile slot.
You couldn't get a video slot more fit for mobile than Reel Rush. Simple, but so compulsive, you keep spinning as you watch your screen explode with new ways to win big. Definitely appealing to the Super Nintendo generation and those who are easily caught in the excitement and anticipation of a big win.
The jackpot slot to end all jackpot slots, not only does it work flawlessly on mobile, but we would probably enjoy this video slot even if it didn't have a progressive jackpot running into the millions. Mega wins, mega reels, mega free spins… what more could you want?
Having to put this slot at number 2 hurt a little. It's always been a favourite online slot of ours and when it came to mobile we were as happy as a new found super powered god in a planet of puny little ants. As beautiful and fun as it's online version.
So come on down to South Park and have yourself… a choatic, crazy, bonus feature filled time! Surprised by our choice? Don't be. This was easily our favourite mobile slot release of the year, so much so that our review of it is crazy long. We couldn't help it, we just got carried away in our excitement. Not to mention that there is simply so much to say about this wonderful NetEnt mobile slot.
We won't lie. You do have to have the humour of a 10 year old, with the sensibility of a 20 year old college student, but who doesn't like to regress back in time for a little while and laugh at fart jokes?
Who are the real winners and losers of 2013?
There are two clear winners in the mobile slot wars of 2013 in our opinion. Both NextGen and NetEnt have, between them, 6 of the 13 slots and dominate the list. And with 15 strong casino software contenders, it was not an easy feat.
NextGen particularly surprised us, as so many of their releases in 2013 were, to be brutally honest, if not awful then just plain boring. Hot Hot Volcano, Venetian Rose, Oil Mania… ouch, ouch and ouch. And yet, through the sheer force of numbers and the fact that they are one of the most prolific mobile slot creators of 2013, some of their creations had to work. No surprise, these were the mobile slots that they took the time to craft beautifully and with little added bonus features that made them stand out from the pack.
We honestly thought we would find it difficult not to fill our top mobile slots list with ONLY NetEnt games, but with only one mobile release a month at best, the choice of slots on mobile was smaller and we had to be fair to the others. Still, it was a hard choice, with Magic Portals and Lucky Angler almost making the list. NetEnt are clearly the real winners of the group, having 3 of the top 5 slots in our list. This is no doubt testimony to the amount of work and care they take over each new slot release, ensuring that they bring you new slot games straight on mobile that play exactly like their online counterparts.
We were a little disappointed in Microgaming this year. Sure Thunderstruck II is by far one of the best releases of the year and a huge amount of our four star slots in 2013 were Microgaming slots. Yet we saw barely any really 'new' releases, with almost all their casino games being a catalogue of their past greatest hits. Still great, but where are The Dark Knight Rises slot, Secret Santa's and Rhyming Rheels that the online players get to enjoy? If Net Entertainment can do beautiful new video slots, so should Microgaming.
Sheriff Gaming also lost out, with so many of their mobile slots barely making the cut and far too slow and unpredictable to make our list. BetSoft Gaming managed one, but with their heavy graphics they have much the same problems as Sheriff with their 3D slots. Play'n Go almost made it, there are a couple of mobile slots of theirs we really love, yet overall we would have only put them our list of slots for the sake of it, rather than because they can really compete with the big boys. Perhaps 2014 will be their year?
That's it from us for 2013. We have some big plans for 2014, so when you are dying from whatever sparkling wine you decided to celebrate the New Year with, come back to us for some spinning surprises.
(Or alternatively, have a look at our 'hidden gems of 2013' – slots you don't know about but should.)