We've officially hit 300 mobile slot reviews and with that we look back at some of the quirkier lessons we've learnt along the way and how you made it all possible.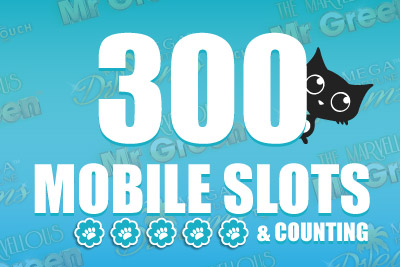 18+
Don't worry, we will not be writing an academy award winning speech with tears of joy at how thankful we are of everyone; from the guy who makes our coffee in the morning with that little latte swirl we love, to our laptops that take the pounding of our keyboard's frustrations.
But we are proud of having reached an incredibly 300 reviews of the best mobiles slots out there. Technically as we write this it's 301, but hey, timing isn't always perfect. The Marvellous Mr Green slot come out of nowhere and then Mega Fortune Dreams (our choice slot for 300th) followed quickly along.
Needless to say we wouldn't be anywhere near these huge and crazy numbers if it wasn't for you guys who actually find our mobile slot reviews interesting enough to read. Or at least pretend to read before heading off to play at some of the best mobile casinos around, which is ok. We don't take it personally. We know how the pull of the slot machines dings are a powerful thing.
You came, you glanced, you conquered new and wonderful slots on mobile. Thank-you.
For this, we shall share with you some words of wisdom of our own.
Lessons Learnt on the Road so Far:
1. Some game providers are just *beep*
Way back when, when we were just little writer fishes with dreams of growing feet like fins and walking on the land of slots, we had a vision of reviewing every last mobile slot possible. Even the crappy ones, because hey, it's good for people to realise which slots to avoid.
It was a big dream, because, it turns out, finding bad mobile slots wasn't that hard. There are hundreds of the suckers out there, and we'd spend most of our time reviewing bad slots rather than good ones. OMI Gaming are a prime example. We got all excited when they first came out and then we tested their mobile slot machines. To say we wanted our hours back is an understatement.
Do you know how many new slot software providers start every year and fail within the same year? We don't either (cause we don't keep track that closely) but it's enough that we've learnt to be cautious when approaching games we've never heard before.
2. And now to contradict ourselves
And yet, and yet… we can't afford to ignore the little providers out there. Because even they will have the odd gem of a slot that you wouldn't think of playing and might easily overlook.
Look at Yggdrasil Gaming. They have the total of 4 slot machines for mobile only, and yet we keep coming back to play the Winterberries slot game. Realistic Gaming is another underdog who many will happily ignore, yet lovers of classic slots have to play on Hot Cross Bunnies for sheer fun madness. 

We might not write about every crappy game we come across, but we certainly test them all to make sure we can give you little gems of awesomeness.
3. Don't judge a slot by it's star rating
It's hard writing slot machine reviews. Different people are looking for different things from a game. We know plenty of players who wouldn't look twice at a Betsoft game, and yet we've had plenty of fun times playing many of them. The best we can do is explain why we enjoyed it (or not) and then you have to make your own decision based on that information.
So if we write 'easy playing entertaining game that allows you to keep your budget steady', this is not going to be a good game if you want big jackpots.
We are only saying this because we get people writing to us saying how much they love that game or that game and how come we only put two or three stars to it. That's because we have to look at the type of machine and judge it against others of the same type.
Which is why Isis mobile slot, an awesome but dangerous high volatility game, get's five stars, but then so does Potion Commotion which has no big wins in it at all, but allows you to play for hours on a small budget.
4. And then there's times we are simply in the minority
We wrote the other week about the top 10 most popular slots right now. We found out this information by asking three of our top multi-software casinos which games people where playing above all.
Generally, none of them surprised us much. Most were what we'd consider top slots. And then there was one. One game which kicked us straight in the nuts.
Lady of Fortune mobile slot got a measly 2 stars from us. That's basically us saying 'do judge this slot by it's star rating, OK but not really worth it.' And yet it was number 8 in the most popular slots being played in the last 6 months. 
Bear in mind that the blockbuster slot Aliens didn't even make it onto that list. We don't understand it, we don't really like it, but we just have to live with it. That's the game you guys are playing, that's the game you want to play. Just don't come crying to us when you don't win anything.
5. Release date deadlines are for other people
The brilliant Douglas Adams once wrote "I love deadlines. I like the whooshing sound they make as they fly by". And whilst it's true that we may play around with our deadlines at the Lucky Mobile Slots headquarters, we tell you, there are bigger culprits out there.
Slot games providers, as a breed, seem to be allergic to game release dates. If we are lucky we get a general season like 'Out summer 2014.' If we are really, really lucky, we get an exact date.
If we are really unlucky we get a general month. The reason why that's unlucky is because we've been burned so many times when we write exciting articles like 'This game is to be released on August Hurray!'
Then the prophetic month comes and we get nothing. We sit here twiddling our thumbs wondering what we did wrong. Why are they not calling us for a second date? Did we not post about how the game was coming out and smiled in all the right places?
Chances are it's simply the casinos taking their sweet time putting it on their mobile casino sites. Or the game could be delayed. Or it could not come out at all. When games providers give a vague month, it means 'hopefully/maybe'. Betsoft are the worst for it. We predicted the game Sugarpop would be released on mobile a total of 4 times in over a year. When it finally came, we got caught completely by surprise and had to quickly write up a review.
It's why you'll see us post a lot of 'coming soon' news mostly about NetEnt and Microgaming. They are the two most reliable softwares who, when they say they are going to release a game, they are going to release a game god damn it! Come rain or shine, that mobile slot is coming.
Generally we like to post about all new exciting releases anyway, because even if we get the exact date wrong, it's still fun to read. We simply ask you to forgive us ahead of time if sometimes the time scales do not match expectations.
More to come…
And we're only just getting started. With an average of 5 to 8 brand new slots released and another 10 old but newly-found games we review every month, we will get to 400 in the next six months we promise.
Why is that exciting? Consider this: most casinos have in their portfolio at best around 100 mobile slots. We have 301 and counting. We are going out there and finding new games and new mobile casinos for you to try out everyday, because variety is the spice of life, slot games are the lifeblood of a good casino session and we all dream of finding that one mega slot jackpot that will change our lives.
So get out there and try one of these great offers right now at casinos we love above all:
10 free spins no deposit + 100% up to £$€500 at Vera&John.
And because we never want to rest in our laurels, try a brand new casino we are at the moment testing out and getting some great results. BGO casino accepts players from all over the world and are growing and improving every month;
Choice monsieurs', madames'. You have a world of mobile casino and slot choice. And we are here to advise, help and generally entertain. We hope you stay with us an continue reading about all the latest and best new mobile games for you to play.
As always; thanks for reading.