£/€5,000 a Day up for Grabs at Vera & John Mobile Casino
The ever popular Vera & John mobile casino are promising to give £/€5,000 a day to one lucky player and £/€50,000 a month to another.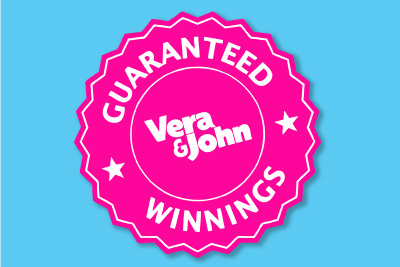 18+
No, this isn't us just repeating past news because it's summer and there is not much to say. Vera and John's promotion to give away £/€5,000 has proven so popular that they are extending the promotion through July and August, guaranteeing bigger winners ever day, and at least one mega winner a month.
Because not only will Vera & John casino top up the biggest winner of the day to a decent £/€5,000 a day, but if no one hits a bigger jackpot that month, the closest to £/€50,000 will get topped up to that incredibly decent "holiday on the islands and then deposit on a house" amount.
Best of all, if there is a £/€5,000 winner on one day, the next day's 'benchmark' amount will become £/€6,000. And if that's hit, then £/€7,000 and so on, until, one day, the goal isn't hit and closest to it will get a nice little top up.
Now we mentioned in the review of this offer that it probably wouldn't have us betting any bigger or harder. After all, this offer is dependent on 1. you winning big and 2. not so big that they don't top you up. It's down to pure luck and fluke. But as often time players at Vera & John mobile casino, it certainly keeps us looking at our inbox to see if maybe, just maybe, today is the day we get a hefty additions to our account.
Head over to Vera and John Mobile Casino now and check out their many mobile slots and games.
---