70 Free Spins Rally at Vera & John
Swedish, Norwegian & Finnish listen up – your free spin rally starts here.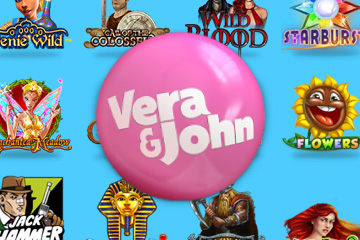 Expired
18+
How would you like 70 free spins over the course of seven days? Well Vera and John have got a rally going just for that. It's not the most inventive of promotions, and it doesn't have a fun theme or beautiful graphics, but what it does have is FREE SPINS. And who doesn't love free spins?
So how does the Free Spin Rally work?
Deposit a minimum of 10€ on day 1. Get  10 free spins a day for 7 days.
What I don't have to come in and deposit  everyday? Nope. One deposit = 10 free spins every day for seven days. You won't get 10 free spins on your deposits mind you. You'll have to wait for Day 2 to get them, but what's a little wait when they ask for so little and give you so much?
And you know what we love the most? The games and spins are available to play on your mobile! As you have to log in every day to get your free spins, if you don't have a computer handy, you can simply play your free spins on your mobile and try your luck. How great is that?
Yes we get excited about mobile promotions, but can you blame us?
What to watch out for:
The first 10 free spins will be added the day following your deposit. So if you deposit today, you will get your first 10 free spins tomorrow at 15:00 CET. Free spins are NOT added automatically upon deposit.
All spins will be added on a daily basis at 15:00 CET
Spins are only valid for 24 hours. If you do not log in to get your free spins for that day, they will not be re-added. So grab your tablet and spin, spin, spin.
Minimum deposit of €10.
This campaigns lasts until May 30th – but you can only have them on seven consecutive days of your choosing. So choose wisely.
For SWEDISH, NORWEGIAN and FINNISH players only. We cannot emphasis this enough.
So what are these great mobile games you mentioned?
Well, they are all popular NetEnt games available both online and on your mobile. They are listed below, and just remember there is a seven day rotation on them:
Starburst – 5 Reels, 10 Paylines
Jack Hammer – 5 Reels, 25 Paylines
Flowers – 5 Reels, 30 Paylines
Gonzo's Quest – 5 Reels, 20 Paylines
Mythic Maiden – 5 Reels, 30 Paylines
Frankenstein – 5 Reels, 20 Paylines
Victorious – 5 Reels, 243 ways to win
If you haven't already, read our review of Ver&John here, or go straight to the casino and double your money with their first deposit offer. You'll then be able to get 70 free spins (if you're lucky enough to be in scandinavia!)
---