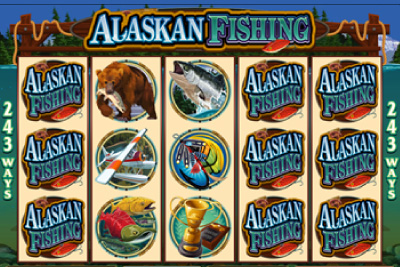 18+
We recently posted that Microgaming was releasing a new slot on June 4th, 'Stash of the Titans'. Well, hot on the heels of that release, we've found out that there will be not one, but two new mobile slots from the famous game provider.
Alaskan Fishing is a 5 reels and… wait for it… the second 243 ways-to-win mobile slot available. Burning Desire is the only other  mobile slot in Microgaming 243 ways to win range available currently, and we thoroughly enjoyed spending time on those reels. So why wouldn't we in the Alaskan Wilds?
The Theme
You are either going to love or hate this theme. Set in the Alaskan wilds (shocker), this theme is meant to be more realistic than cute and cartoony. The symbols on the reel want to take you on a fishing expedition, where hungry bears roam, fresh gleaming salmons jump out of streams and eagles soar into the heavens. Although it's hard not to be a little sexist, considering the theme, it's clear that this is aimed at the guy dreaming to be in the great outdoors, rather than at home in front of his computer or commuting on a long train to work. But then, isn't that why we play slots and games? To take us away from our real lives into a fantasy that makes us happy? So if this is your dream, you'll love this Alaskan Fishing mobile slot.
After all, there are certainly worse fantasies than dreaming of the serenity of the icy rivers and the first prize catch of the day that hides underneath.
The Bonus Features
We cannot say for sure what the bonus features in the brand new mobile slot will look like. But, as with any slot that was online and is now being taken to mobiles and tablets, we can give you a pretty good guess of what we think is going to be it's highlights:
243 ways to win! We love that number. And although common in online Microgaming slot machines, this will only be the second mobile slot to have that number of paylines.
1,215,000 coins! Microgaming has always been very good at ensuring the jackpots on mobile are as decent as their online offerings. We hope they keep true to this slot and the number high.
Pick and win fly fishing bonus! A simple pick and win game with random multipliers. We would be very surprised if this wasn't in the mobile slot.
15 free spins with a 2x multiplier! Simple and able to be re-triggered.
By our bets and by looking at the features, Alaskan Wild mobile slot will be a decent addition to any casino. We have no doubt that being a Microgaming slot, it will play incredibly well and on most devices, including iPads, Nexus 7 tablets and iPhones. That said, this slot will undoubtedly live and die on it's theme. You'll either love it or hate it, and you'll very quickly make up your mind upon release on the 4th of June.
Meanwhile, if you love Microgaming slots, why not visit Jackpot City? They provide the best in Microgaming mobile slots and are an incredible decent casino to boot.
Update: Alaskan Fishing mobile slot is now out to play, check out our review here.