Videoslots casino has launched a brand new tool that's like no other, allowing you to view your own personal return to player rate on the slots you play.
It's not often that you get to experience something truly different in the gambling industry.
Sure, sometimes wonderful things happen: when we went from 3 reels to 5 reels slots, when we went from land-based casinos to online casinos, when you first came across LuckyMobileSlots.com… you know, special times like that.
Time will tell if this new tool from Videoslots casino will match those levels, but one thing is for sure: if you learn how to use it, it will change how you play slots.
What is the  My RTP analytical tool?
Videoslots have always been unique in that they were one of the first casinos to publish the RTP of all their slot games.
What makes them different, however, is that not only do they say what the theoretical return to player rate is of each of their slots, but also the actual RTP of the slot at the time.
In order to understand the tool, you have to understand what is an RTP of a slot machine.
Get 11 Free Spins on Starburst
Sign up to Videoslots casino and get 11 free spins on Starburst slot on your first deposit
18+ New customers only. Free Spins are Wager-Free. Wagering and Full T&Cs apply.
What's the difference between the RTPs?
The theoretical RTP is what we publish in all our slot reviews. It's how much the slot will pay out over its lifetime – usually around 95% to 98%.
The actual RTP is where the slot is at now; ie. if it's been paying out lots lately, it will be at 102%, but if it's not paid out in a long time, it will actually be at around 85%, and so on.
"We pay a lot of attention to player feedback at Videoslots, and My RTP fills a genuine gap in the market for a complete statistics package for online slot players." stated Alexander Stevendahl, CEO at Videoslots.
Why is this useful?
Honestly, it isn't actually that useful because the laws of random number generation dictate that a slot could pay out at any time – why the best slot strategy is one that budgets.
However, some gamblers like to play on 'hot slots' ie. games that have been paying out lots recently, on the basis that they will continue to pay out.
Other gamblers believe that it's better to play on 'cold slots' ie. game that are overdue a big win because they haven't paid out anything recently.
Neither one is right or wrong, as either could happen; it just depends on your gut feeling on this one.
How the My RTP Videoslots tool is actually far more useful
So we've established that you can get this general RTP slot information from this gambling site anyway; so what, exactly, does the MY RTP tool do?
Videoslots promise that with this tool you'll be able to:
View your personal return to player (RTP) on individual games
Give you information on record wins
Let you see the hit rate of the games you've played
View the number of spins you make per gaming session
Track the games that have given you the highest and lowest RTP
Save game session so you can compare them to other players playing the same online slot
Which is far more than any tool out there giving you just 'hot or cold slots' like in Royal Panda casino.
How you can use this tool to change how you play:
This is going to appeal to any online gamblers that love data.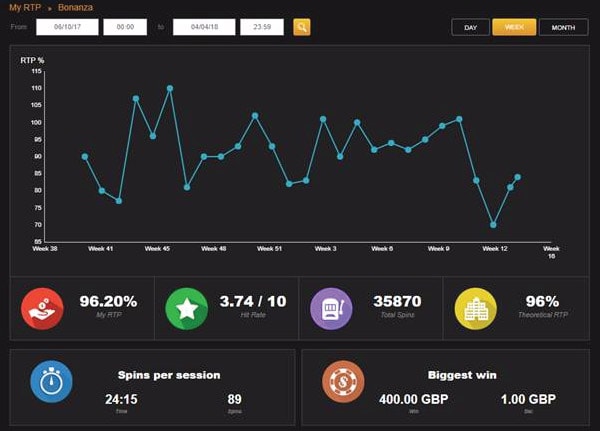 It's actually not very different from the kind of data you get nowadays at most good sportsbooks, it's just nice to see it at any casino online.
Here's why we welcome this new analytical tool.
1. You'll be able to pick your real favourite slot
Do you have a slot you won big once, and you keep coming back to just in case it pays out again big?
Maybe it does, maybe it doesn't, but this tool will help you see which of your favourite casino games actually pays you more than it doesn't.
Maybe there's one game you play a lot, but never won huge, and you wonder if you should keep playing?
The tool will be able to say if that slot has given you value for money, or you are just losing slowly.
Ultimately, you'll have to take these stats with the knowledge that, ultimately, all slots give the casino an edge, but it will be possible to truly pick your favourite slots.
Get 11 Free Spins + up to €$200 Bonus
Try Videoslots casino with 11 free spins plus up to €$200 in bonus money and extra on top on your first deposit
18+ New customers only. Free Spins are Wager-Free. Wagering and Full T&Cs apply.
2. You'll be more careful with how you spend your money
One of the big reasons why Videoslots are doing this is 'transparency'. In other words, they want to make sure that you never spend more than you should and you know exactly where your money is going.
So for example, you'll be able to see that that £€$20 deposit actually let you play 200 spins in one gaming session.
In turn, you can see how others playing the same video slot did at the same time, so maybe next time you'll know to cash out earlier, or that you were right to keep playing.
"My RTP delivers key information in a coherent and engaging manner and will allow our players to enjoy an even more sociable and healthy online casino experience." Stated Alexander Stevendahl, CEO at Videoslots.
It's all about making sure you play casino responsibly.
3. Use the My RTP data to your advantage
At first, the Videoslots My RTP feature will only work once you've played at this gambling site for a while.  Because you need to give the slots a chance to give you the data – even though it's all in real time.
But once you've used it for a while, you'll start logging the slots that give you not just your biggest wins, but the most wins.
These two are different; the first happens once in a blue moon, whilst the second is related to hit rate; ie. how often a slot 'hits' and gives you a win.
These kind of casino games are good to keep a record of as they are the best ones to play through any wagering on casino bonuses – such as the great welcome package you get when you sign up to Videoslots.
Or when you play on the unique Battle of the Slots tournaments, or even when you want a big weekend booster, which is calculated by the number of spins you take a week.
All just some of the many fantastic features waiting for you at this one of a kind mobile casino.
Start Playing at Videoslots »
Get 11 Free Spins Bonus + 100% up to €$200 Bonus
T&Cs Apply