As we predicted the latest promotion from the mysterious man in a bowler hat has more than your daily Mr Green's free spins and bonuses. But is it worthwhile playing?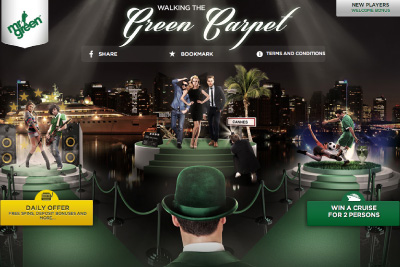 Expired
18+
We would argue that it's always worth playing at Mr Green Casino. That said, is the latest promotion 'Walking the Green Carpet'  worth the time and effort? As we mentioned a couple of days ago in our casino news article, we knew we would be up for a Mediterranean cruise and we guessed that we would see the usual Mr Green daily bonuses we've come to expect. But if we look at the fine print of this promotion, can we get a few more clues?
First – Mr Green Walking the Green Carpet: The Boring Bits
As always Mr Green's promotions are not open to the world in general, but a select few. In this case players from the UK, Ireland, Sweden, Finland, Norway, Germany, Austria, Poland and the Netherlands.
Free Spin winnings & Deposit Bonuses will have a wagering requirement of 35x times.
The Grand Prize Raffle is for a 7 day Mediterranean Cruise for 2 people in a balcony twin room, including flights and airport transfers.
You can only get a maximum of 13 raffle tickets to win the Med Cruise. And that's if you play every day and take every offer. So we would look at the daily offers, weigh up their value and play based on these rather than the cruise. The Grand Prize would be nice, but the odds are against us. Might as well get a scratch-card and hope for $/£2,000 instead.
The offers are unlikely to be available for mobile.
Daily prizes every day from the 14th to the 26th of May.
Mr Green's Walking the Green Carpet: The Fun Bits
Spolier Alert: On the 14th, 16th and 18th you'll get deposit bonuses of up to £20, £30 and £50. How do we know? It say's so in the T&C's. Not a huge surprise then.
Good News: Guess what? You'll get Free Spins. Free spins with deposit offers, free spins with no deposit offers, free spins that last for seven days, free spins that last for 24 hours… how do we know? Because 50% of the T&Cs are about free spins and what you can do with them once you get them.
Low Deposit: If you do have to deposit, the minimum seems to be £10. A nice small amount.
More Spoiler Alerts: On the 26th of May, they will likely offer a raffle to win… something around the slot Mega Fortune. We suspect (and/or hope) that this includes a huge amount of free spins. How do we know? Because according to the T&C's "The Mega Fortune raffle draw will be held on Monday the 27th of May". 99% of the time, draws are done a day after the competition.
Are We Spoiling It Too Much For You?: Oh yes. One of the prizes on offer will be a Blu-ray player and 3D TV. How do we know? Guess.
It pays to read the fine print people.
So is it worth it?
Let's do the math. If we don't count the mega raffle, out of 13, only 11 days will be non-raffle based based on what we can gleam from the T&Cs. Now we are not huge fans of raffles. And certainly not unless there are A LOT of prizes to be divided with only a small pool of players. We can't judge the raffle for the Mega Fortune and the Blue-Ray player and 3D TV because we don't know the details, but lets remove it as 'nice to have if we fancy playing that night and be in with a chance' rather than 'must come and claim this promotion now'.
So that leaves us with 11 prizes. Three of which are deposit bonuses of, let's be honest, fairly low amounts. For the 14th of May promo (though we like the 'semi-final eurovision song contest theme') you would need to deposit £100 to get a fairly average $/£20 on top. Now the $/£50 could be something to shout about grant you. It will make us look at the offer, but to be honest, until that $/£50, it might not tempt us all the way.
So they all rolled over and 3 fell out. And there were nine left in a free spin bed.
Oh we can't guarantee nine. We can't predict for certainty. But Mr Green loves giving out free spins, and even if they are small in numbers, it's likely that the nine left over will have some free spin offers, with or without deposits. Which, we have to say, we are particularly found of.
New players, bear in mind that you will need to take the Mr Green welcome offer first before they give you any extra free spins. But the welcome offers are generous, and depending on your country, usually come with free spins anyway. For the full list of welcome bonuses check out our casino review of Mr Green.
So what is our final verdict?
It's a different prize everyday. Bookmark the page and come back and see if something tempts you. If nothing else, when you fancy a spin one night before the 26th of May, head to Mr Green first and see if they have an offer you like.
As the offers are not available on mobile, we suspect that the only reason you'll use your mobile for this promotion view in your Mr Green lobby, and then come back later and play online. A shame in our books, but just because we love gambling on our mobiles, doesn't mean we don't also play online. This might be one of those times.
We are not convinced that we are in with a chance to win a Cruise to anywhere further than our paddling pool, but a chance is a chance hey? And if there are some free spin offers along the way, it's worth logging in and double checking if you fancy a play.
So why not head over there now and see if the offer on display cruises your tastebuds? We will also let you know here if any particular of the daily offers wets our fancy.