Don't Fall For The Casino Bonus Trap Use Our Free Bonus Calculator Instead
Hi, my Name is John and I'm a Casino Bonus Chump. Hi John.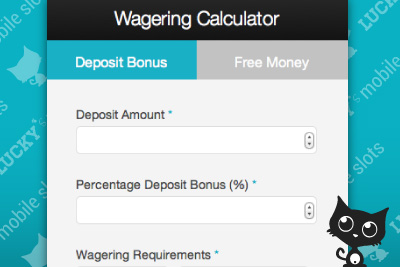 18+
Does this mantra sound familiar? Let's be honest. We've all looked at a tempting bonus offer, made a quick calculation/guestimation in our heads and thought 'yeah, why not', more focused on the tempting prize than the real maths.
We've written about bonus offers a lot in our FAQs. From "What should I be asking myself about bonuses?" and "When should I take a bonus?" to "How are percentage bonuses calculated?"
Why? Because we think that when it comes to casino bonuses people get a little blindsided. They see an offer like "80 Free Spins!!! No Deposit!!! + £1,000 Free Deposit Bonus!" and don't stop and think. Mobile casinos are not giving you money out of the kindness of their hearts so you can spend an afternoon of fun. They are doing it so you come to the casino, test the games and keep playing.
It's never really free money
This means that the casino will put very clear terms and conditions stating varying degrees of difficulties to cash out any winnings with bonus money.
This is why you should always read the T&Cs carefully and calculate your chances. You don't want to bet £10 free money, win £1,000 and find out you can only take a maximum of £200 in winnings IF you wager those winnings £50,500 times at a wagering requirement of 50x the deposit and the winnings. And that's if you play slots. If you play on blackjack which could be worth as little as 10% of your betting requirements, you might as well give up now.
So instead off guessing, have a play on our free casino bonus calculator here. Read the casinos bonus terms and conditions and look carefully at whether you have a chance of winning. It's worth a minute of your time before you sign up to empty offers, or worse, find yourself unable to cash out that jackpot win.
If you want a little inspiration, check out our 'casino bonus page' with all the welcome offers from all the mobile casinos we recommend.
---