Get your Stakeback at Sky Vegas this Summer
You can earn back £250 from your bets until the 15th of August.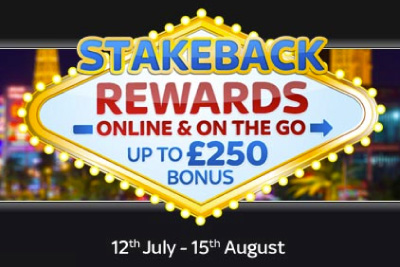 Expired
18+
Summer has officially arrived in the UK. We know this because Sky Vegas have launched their summer celebration with Stakeback Rewards from July 12th to 15th of August.
All you need to do is use the promo code STAKEBACK in the My Account section when you register.
So what are Stakeback rewards?
For every £1 you spend on any slot at Sky Vegas, you'll earn 1 point. This includes all mobile slots.
Once you get 200 points, you'll earn back £1.
The maximum amount you can get back is £250.
So you'll need to spend £50,000 over the next month to get the maximum amount
So unless you are rolling in cash, the chances of getting the maximum amount is slim. To be honest, even if we had £50,000, we doubt that getting £250 for our betting efforts would make us jump for joy.
£25,000 reward package lottery
So the stake back offer was a little too good to be true, but this is slightly more interesting. For every £10 staked on slots or table games, you'll also get a ticket to win part of a £25,000 reward package. This package includes £500 in daily prize draws, as well as two jackpot prize draws of £3,000 and £5,000.
Intrigued? So are we.
However, that said, is it tempting enough to specifically make us play at Sky Vegas? Well, we might try out luck when we fancy a spin at some of their exclusive mobile slots to get one of those tempting prize draws, much more so than to get a pound or two in the stakeback.
Head over to Sky Vegas now and check out their great range of mobile slots or read our full review here.
---