Are you a fan of slot tournaments? Want to play on your favourite slot games, but win more? Then the Rizk Races are exactly what you're looking for.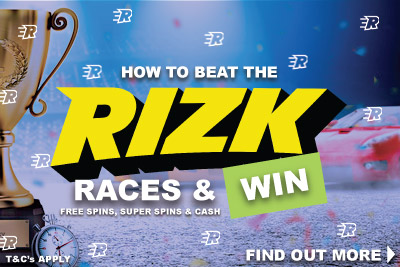 18+
We bet you're wondering what exactly are these Rizk Races, what can I win, and which pet do I have to sacrifice to make it happen?
Well, we'll answer all of those right here, along with how to beat the competition.
These Rizk casino slot tournaments provide plenty of action and all you have to do to win is play… but don't worry, your pets are safe. Probably.
With a free-to-enter slot tournament every 30 minutes, along with two real cash prizes to be won every day, these are no ordinary casino competitions.
What can I win at Rizk?
There was a time when a Rizk Race lasted 7 days and only a few winners won a prize.
Those days are but a distant memory, as the Rizk mobile casino has revamped its Races and provided you with the chance to win Free Spins, Super Spins, and Free Money, every 30 minutes.
On top of that, you'll get two chances every night to win real cash prizes in their Main Races which last 55 minutes.

How many free spins and free money are we talking about?
Well, that depends on the races you enter.
The quick races every 30 minutes will give you anything from 50 free spins to 25, 35, or 40 super spins.
What's good is the fact that before you join any of the Race tournaments, you can clearly see what you can win, along with what you have to do to win.
Get A Free Bonus On Signup
Get anything from 10 free spins up to £€$25 in cash, with no wagering, when you sign up free to Rizk casino – no deposit needed.
Cash prizes during 2 main events
The same goes for the two Main Races which occur at 18:00 BST and 20:00 BST only.
Here we know exactly what you can win. The first of the two will give you the chance to win up to £€$500 in real cash and the second doubles that up to a whopping £€$1,000.
And that's every night at the same time.
So now you know how often and what you'll get, let's find out what type of slot tournament we're looking at here, and how you can win.
How the 30 minute Rizk Races work
These races continue throughout the day, 7 days a week. They have much the same concept as the Casumo Reel Races.
The Rizk Races, however, last slightly longer, going one for 25 minutes rather than 20.
The first thing you'll need to know is that you will have to join a race before it starts in order to enter it.
So if a race is currently going on you'll have to find out what the next one is, join it, and then wait until it's time to start playing.
Keep an eye on the set number of spins
To win you'll have to get the most points in the set number of spins.
These races are all limited by the number of spins, meaning that any wins or losses you get after the number of spins specified won't count towards your total.
Best to keep that in mind to avoid disappointment.
Here's how the point system works:
Every win = 10 points
3 Wins in a row = 30 points
7 Losses in a row = 40 points
Big Wins over 10x your bet = 300 points
It's a lot simpler compared to the Casumo one, but it's one that makes sense and levels the playing field for small and big betters.
We'll talk more about why this is one of the fairest slot tournaments you can play online in a little bit.
2 Main Races, 2 Real Money Prizes
If a race every 30 minutes and winning free spins or super spins aren't enough for you, then there are not 1 but 2 Main Races that take place every single night, 7 days a week.
These work in much the same way as the shorter Rizk races, but with a few differences. Namely the fact that these races last 55 minutes and reward 10 players with cash prizes.
Win up to £€$1,000 for 1st prize
Another difference is that unlike the quick races, where you get to choose any of the Rizk Video Slots to play, you will only get to play on a single tournament game to win.
This makes sure that when it comes to playing to win cash, everyone is in the same boat.
Fair racing rules means anyone can win
We touched on it earlier, but we thought that this was such an important part of these Rizk casino races that it should have its own mini section.
The way in which the points system works; by rewarding every win, three wins in a row, and even seven losses in a row, means that your choice of slot mobile game for the 30-minute races isn't limited.
Great Slots At Rizk
Jack & the Beanstalk
Big Bad Wolf
Book of Ra
Guns N Roses
Phoenix Sun
If you choose a low variance slot game like Starburst you might get lots of 3 wins in a row, but choose a highly volatile game like Book of Ra and you might get 7 losses, but bigger wins.
The variance of the game is somewhat, but not completely equaled out: making it fairer.
Your budget doesn't matter
And same goes for betting, seeing as the big wins are not calculated by how much you win, but by how many times your win is in comparison to your original bet.
So those with big budgets spinning £10 a spin have the same chance as the average gambler at getting those 150 big win slot points.
We also love the fact that you can see all the information upfront for not just the current race, but races ahead of time.
From the minimum bet, to how many spins you have to spin, or what you can win and how many players can win a prize.
It gives you a chance to calculate how much you actually have to wager to complete a race.
What's the secret to winning these slot tournaments?
You've got to be in it to win it, so a good start is to make sure you join ahead of time, then come back and play at the designated tournament time.
Another is finding the right Video Slots to play.
Choose Your Tournament
Login to your account, find a tournament, join it and then come back when it's time to spin and you could be a winner
You might have a favourite mobile slot machine that you find lucky or just try the latest newest slot on mobile to try.
A little research goes a long way
That's all well and good, but if you truly want to win you'll go into our slot reviews, take a look at the Return to Player rates, analyze the hit rates, check out the variance, and see which ones are more likely to payout.
Statistics and having a good slot strategy can always help you win more for your money, but there are no guarantees when playing casino slots online.
Sometimes it's just down to sheer good old-fashioned luck, so don't forget to wear your lucky pants and hope for the best.
It can't hurt, right?
Tell me more about Rizk casino
Not been to Rizk mobile casino before? You're in for a pleasant surprise.
They offer their players Real Rewards from the moment you sign up, to every time you level up, in their casino loyalty program.
It gives you, and all-new players, the opportunity to spin the Wheel of Rizk, which rewards you with anything from 10 free spins up to £€$25 with no wagering when you sign up, no deposit required.
Get Your 200% Bonus
Rizk give you a generous 200% bonus letting you deposit £€$50 and play with £€$150 plus get an extra 50 free spins
And those can be very fruitful indeed as one lucky player took that £€$25 and turned it into €64,424 all without making a single deposit.
Great games, even better services
Then there's the choice of video slots to play, with games from NetEnt, Quickspin, Microgaming, WMS, IGT, Novomatic and Play'n GO giving you over 300 phone slots.
Add that to the fast withdrawals in under 4 hours, a choice of payment methods, currencies including GBP, CAD, and EUR, and this casino site is a must-play.
They keep growing and improving, meaning that there's always something going on.
And with these fast-paced slot tournaments, you know where to go for a quick fun-filled challenge.
Get Your Free Bonus + 200% First Deposit Bonus & 50 Free Spins