Videoslots online casino has constant slot tournaments they call 'Battle of the Slots'. It takes a minute to figure out how to play, but a lifetime to enjoy playing.
First, you should know that this feature on this gambling site is for the online casino only playable via desktop or laptop. So you can't access it if you prefer playing on your Android tablet or iPhone.
It is also, to anyone first entering the crazy world of slot machines, incredibly confusing.
And whilst we love Videoslots casino, they don't make it that easy to understand how to sign up and play in Battle of the Slots.
Thankfully we have all the time in the world to help you get your head around some amazing tournaments with huge cash prizes.
A quick how-to guide on the Battle of the Slots
We should point out that this is meant to be a quick snapshot of what you'll find at Videoslots casino's Battle of the Slots, how to sign up, and the different casino tournaments available.
We will obviously put in everything we can think of that will make playing in these casino tournaments more fun, and any pitfalls to avoid.
However, if you have any doubts or questions, their 24/7 live chat team is available from the Battle Lobby and they will be happy to answer any queries you have.
Get 11 Free Spins on Starburst
Sign up to Videoslots casino and get 11 free spins on Starburst slot on your first deposit
18+ New customers only. Free Spins are Wager-Free. Wagering and Full T&Cs apply.
How to win the Battle of the Slots?
This is the first question most of us ask, and it's not obvious by any means.
Basically, each battle will have a minimum and maximum bet you can wager, as well as a time limit and round limit.
You then sign up to the tournaments and play on the slot game in question, and whoever gets the most amount of wins in that time/number of rounds, wins.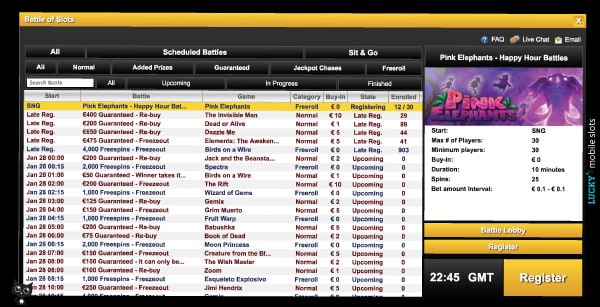 Are these free to enter casino slot tournaments?
Some are, some aren't. Below we've listed the most popular forms and types of Battle of Slots tournaments, and what they each mean.
In short, you generally only need to pay a small buy-in (around £$€1 to £€$5) or they are freerolls.
The free to enter slot tournaments, however, have certain stipulations; ie. you have to have made a deposit of £€$20 in the past, or made £€$200 worth of wagers in the last 2 weeks.
Basically, the free tournaments are for active Videoslots casino players only. And here's why.
You don't use real money to gamble on these tournament slots
Once you've signed up and registered, you have to either wait until enough people have joined the tournament or the time and date the Battle starts.
Once it has started you can open up the game and start spinning.
However, to make it fair to everyone you are not using your own casino deposits to play on these Battles.
Instead, it is essentially play-for-fun-money to see how much you can win in that short space of time.
Which also means that at the end of the Battle, you don't walk away with anything you've won whilst playing the online slot – unlike the Casumo Reel Races, for example.
The only way to walk away with real cash is by getting into the Battle of the Slots leaderboard.
Get 11 Free Spins + up to €$200 Bonus
Try Videoslots casino with 11 free spins plus up to €$200 in bonus money and extra on top on your first deposit
18+ New customers only. Free Spins are Wager-Free. Wagering and Full T&Cs apply.
How much can I win playing in Battle of the Slots?
Remember that buy-in you contributed to play in this Videoslots casino tournament?
That goes towards to the cash pool prize, which generally is divided by the top 5 or top 10 players; it all depends on how many people join in.
If more people join in, the prize pool is bigger – some have guaranteed prize pools regardless of how many people play.
Some let you win free spin bonus casino prizes, and tend to be freeroll tourneys, for obvious reasons.
Just don't forget that Videoslots keeps a small rake of your buy-in, as a fee for hosting the tournaments.
Explaining the different types of Battles of the Slots
If you've ever looked at the Videoslots Battle lobby, you've probably wondered what are all these different battle names and what do they mean?
We break them down quickly, but the most common you'll find at the top four.
Sit & Go: These start as soon as enough players join the battle; generally around 3 to 5 players.
Heads Up: These start as soon as two players join the battle.
Guaranteed: These will have a guaranteed prize pool that will be paid out. If the prize pool exceeds the guarantee, the prize pool will continue growing normally.
Freeroll/Freespins: These are free to enter slot tournament, just register and wait for the start time.
Added Prize: These are guaranteed battle have prize money added to the pool by Videoslots
Jackpot Chase: You'll play on a jackpot slot when it's ready to burst, and if it does, the jackpot prize will be divided amongst all the players.
Turbo: Quite rare, these are fast battles with limited time and spins available.
What's the difference between a Freezeout and a Rebuy tournament?
You'll notice as you register for these Battle tourneys, that they're names are going to be something like 'Guaranteed – Rebuy' or 'Freespins – Freezeout'.
Basically, it tells you whether you are able to get re-buys into a tournament or not.
A freezeout means no re-buys. You pay your fee, you get your number of spins, and once you are done, you are done, win or lose.
A rebuy tournament, on the other hand, lets you re-enter the tournament (for a small fee of course), as long as there is still enough time, to try again.
Why Play At Videoslots
Games from over 50 providers
Constant slot tournaments online
Enjoy a weekend boost up to £€$300
£€$80,000 weekly casino races
UKGC & Malta licenses
Any pitfalls I should watch out for before I play?
Like any good competition, there are certain rules and regulations you have to abide by in order to ensure fair play.
It's always good to read up on any rules before you head over, but basically, the main points are:
Make sure you show up for any scheduled tournaments; if you don't you will lose your entry fee
If not enough players show up for a Sit n Go or Heads Up your entry fee will be refunded
You cannot buy-in a Battle of the Slots using bonus money, only real money
Make sure you read up on how many winners will split the prize pool
All free spin bonuses won will come with a 40x wagering
Any cash prizes won whilst playing in Guaranteed Battles is real money
Make sure you meet the requirements to enter a freeroll tournament
If you are disconnected during a Battle you can re-join in as long as there is still time left
That's pretty much it.
It's actually pretty simple once you get your head around it
You sign up to Videoslots casino, register for as many tournaments as you want, and make sure you show up.
You then get given a certain number of spins or free cash to spend on a slot machine, and the top players with the most wins at the end of the tournament win.
Wins can be real cash, free spin bonuses, or on the rare occasion, a slice of a progressive jackpot.
At the end of the day you get the chance to check out a new casino site that is always trying to offer more to their players, whether it be tournaments or games.
Start Playing at Videoslots »
Get 11 Free Spins Bonus + 100% up to €$200 Bonus
T&Cs Apply