Lucky Mobile Slots YouTube Channel Now Live!
Not enough that we give you great mobile slot reviews, we've now showcasing the best mobile slots video through the power of YouTube.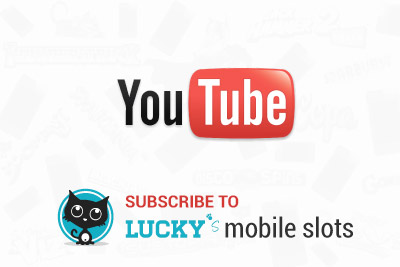 18+
You might, or might not, have noticed that some of our reviews have now changed. Instead of just a beautiful image of the mobile slot in question we've added a big 'PLAY' button on the top of the review to give what we can only describe as… the most incredible slot video you'll ever see in your life.
Huge exaggeration aside we figured that with so many slots out there not looking their best on mobile, it would be nice to be able to give you a quick peek behind the curtain and see exactly what you will encounter in your mobile slot gambling experience.
Does the slot fit the screen? Do the reels take the whole screen, or just half the screen? Will the feature work the same on the mobile slot as the online slot? Will the music give you the same 'chills in your spine' or have they been simplified for a faster mobile experience?
We aim to answer these and more in our slot reviews on our YouTube Channel. So check out our work in progress and the slot reviews which now have neat little videos we've created, with all the slot features and their mobile functionality:
So head over to our YouTube Channel and subscribe! That way you'll always have a quick glance of the latest mobile slots as they are released before deciding whether to commit to a few spins. We aim to keep each video slot to under 2 minutes as Lucky doesn't have the longest attention span in the world. He is a cat after all.
Also, it's art*. Pure art in mobile slot form.
*Disclaimer: If by art you mean us playing on slots and adding little annotations with what pops into our head. Very post-modern.
---