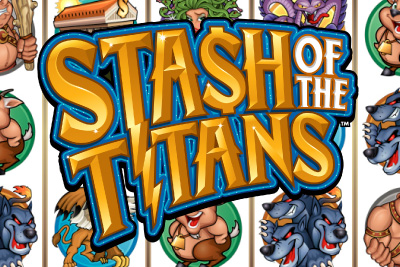 18+
Although Stash of the Titans is new to mobile, it is not, in fact, new to online slots. The original online slot came out in March 2011 and has only made a relatively small splash in the slot world. We had to go back and play it on Jackpot City to remember the original.
A 5 reel video slot with 20 paylines, this is your pretty standard fare from Microgaming. So what will it look like on mobile? We suspect it will be closer to the 'Loaded' level of game than the joy that is the 'Mega Moolah' slot. By that we simply mean that it will be fairly fun, but not quite reach our 'favourite' status.
The Theme
That said, we are still pretty excited, as even if this is not a new slot, it is a new mobile slot, which means more choice when playing on your tablet or phone. The theme is fun, with a cartoonish take on the Parthenon of ancient Greece, giving you a range of characters that would not look out of place in Disney's Hercules.
In fact, some of the characters look a little… stolen? Three headed Hydra? Old stocky Satyr? Muscle bound hero on a winged horse? But hey, we are big kids here at Lucky Mobile Slots and have no problem with slots that parody some of our favourite kids cartoons. Part of the fun is finding themes we love as slots player, regardless of what it reminds us of.
The Features
Copyright issues aside, what features are we likely to see transferred from online to mobile? Well for one, we suspect that this high volatility slot will keep true to it's origins and give cash prizes seldom, but with the promise of winning big when you do. The original slot has a max jackpot of 200,000 coins, which hopefully they will keep, making this slot one of the biggest non-progressive mobile jackpots. This is a must if they hope to get at least three stars in our book, as the only other feature likely to pop up (as it's unlikely they will add any more) is it's maximum of 15 free spins bonus round.
We will, of course, let you know our thoughts when the slot comes out to a mobile near you on June the 4th 2013. Meanwhile, if you fancy some Microgaming action, we would recommend you head to Jackpot City for a full selection of every Microgaming slots and games.
Update: Stash of the Titans mobile slot is now out for you to enjoy and play on your mobile. Check out our review here.