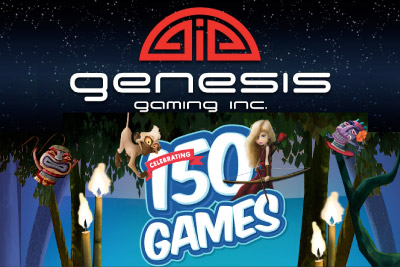 18+
Getting new slot software providers on the scene isn't always worthy of news. Mostly because most of the new casino game providers are damn right awful. Remember OMI gaming? Oh how we regret reviewing those crappy games. Hours of our life we won't get back.
But Genesis Gaming is a little bit different. For one this Vegas based slot game provider has been going around since 2008. For two, they now have over 150 casino games in their portfolio, not all of which are online as they create bespoke slot machines for casinos – real brick and mortar ones as well social games for Facebook.
That said, Genesis is still a fairly young company, so you might not have heard of all their slots. Alaxe in Zombieland is one people often mistake as a Microgaming game. So is the very fun and random Hells Grannies and the beautiful Yggdrasil slot. All online slot games.
They have only now started moving into the global phone and tablet slots world with their latest game release which you can read all about in more detail in our Robyn mobile slot review. Or just keep reading for a quick overview of course.
The signs from the first mobile slots release are… mixed
But generally positive. Basically, the Robyn slot looks great on tablets and iPad. We like how the platform works so you get a little mini wheel menu popping out, rather than take extra space.
The graphics are beautiful. Nice enough to rival the likes of NetEnt's Flowers, though not quite at 'Aliens slot' level. Still, the gameplay is smooth and the animation, when they come, make the Robyn slot machine come alive with gorgeous little details.
It's a shame then that it doesn't hold it's own on the mobile phone slot version. On the smaller screen the game feels small and the graphics not as sharp, making true what most online casino gamblers think about mobile; just not good enough for long term play.
Which is a shame, because the basics are there and after a powerful first impact as a tablet slot game, the disappointment was twice as pronounce when we loaded on our small screen.
Start Playing Robyn Slot
Give this new Robyn slot from Genesis a go today at Guts mobile casino
Still, say what you will, but Robyn worked on all the devices we tested, big or small, so at least it has that going for it.
But are their video slots any good to play generally?
We have to say, out of all the Genesis games we've played, which granted isn't huge selection but some, Robyn isn't the best of the best. Just the latest release. We wanted this game to be awesome, but it didn't reach anywhere near those heights. But don't dispair, this is just the first mobile slot release and they have a varied portfolio of games to come.
Who know what the future might bring? More games is never a bad thing.
The official Genesis game description is as follows:
Robyn is a beautiful young huntress known for her skill with the bow and arrow. When wealth and territory were taken from her village by the evil harlequin queen, she uses her archery skills to take back what was stolen. She is led by her courage and determination to defend her village and protect its people. When players join Robyn on her adventures, they have the chance to win a share of the plunder!
Think more 'Disney Princess' version of Robin Hood, rather than the more realistic IGT version of similar theme in Lady Robin Hood.
All in all, it's a nice theme. But considering that Halloween is just around the corner, we would have liked something like their Haunted Nights slot game.
How many phone slots can we expect from Genesis?
They have two design studios, one in Vegas and one in Vancouver. In a year they apparently released 50 games.
In fact, we recently found out that Robyn wasn't their first mobile slot. But the first was released exclusively for an online casino, so no one else got to see it or play it.
Robyn is their first, universal mobile slot release. And unless they stop doing special games for special casinos, you might be hard press to find many Genesis mobile games.
Best case scenario, we think we might get a new slot every couple of months. Worse case, maybe two or three a year. Only time will tell.
Who will have these new games?
Most of the Genesis casino games are distributed through the Quickfire platform. If you have no idea what that is, basically most multi-platform casinos who have Microgaming games like Guts will probably have Quickfire.
Not that you need to understand this, but basically, currently two are pushing this game front and centre:
We will keep you in touch with any new Genesis video slots that pop up and let you know our overall verdict by the end of the year. 2015 could be very interesting indeed.