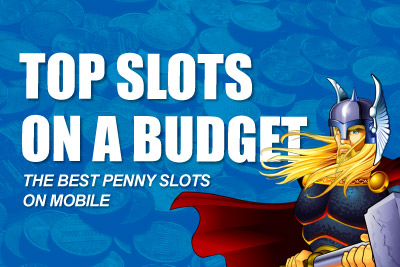 18+
Look, we are all human and not all of us can afford to bet big every day of the month. Some of us need a little help. So we go seeking slot games that are a little friendlier on the budget.
Or maybe you've managed to get a little no deposit bonus and want to know how to best spend it. This is what this little piece is all about.
However, lately we've been thinking that there's a whole load of mobile and tablet slots that claim the title of penny slot machines, but don't deserve it. Just because you can play a penny a line, doesn't mean that these games are easily accessible to the gambler who might be looking for a smaller betting limit.
How we picked the best penny slots on mobile
If the game has 50 lines and you only have 10 in cash, that's only 20 spins at 0.01 a line. To be truly good, these penny slots must be under 0.15  a spin in our books. In fact, the lower, the better.
AND you have to be able to bet all the lines on the slot. What's the point of playing a 50 line slot machine but your only able to play one line? That's not a good penny slots strategy. After all, we know that betting small means you won't win huge amounts. So you need to maximise your chances by playing as many lines as you can.
The point is that for us it's still better to bet a little, rather than play slots for fun on demo mode and win nothing at all. But you need to be able to spin a good 50 to 100 spins in order to get good value and entertainment.
So we've gathered together a few of the best penny casino slots for mobile that won't break the bank and are actually good. We've categorised them by type, so it's easy for you to immediately find what you are looking for.
Hope this helps till pay-day.
The classic slots
Of course, you just knew that there would be some mobile classic slot games here right? Makes sense, you only have to play one to five lines. But you'll be surprised. Most start their betting limit at quite a little higher than that or are just plain terrible.
The best, by far, is Lucky 7 by Betsoft. It has the lowest betting limit of all the slots at only 0.02 a spin, looks beautiful and plays wonderfully on all devices.
The next on our list is Chinese Kitchen by Playtech it's a little different and graphically stunning. Still, for only 0.08 a spin, you get a brilliant little game, with 8 lines, 3 reels and food jumping out at you. Bet you didn't think that was something you'd be looking for in a game right?
The Microgaming slot templates
There once was a Microgaming game that made the world stand up and play. It was a game like no other. Well, it was actually a game like some others, but it felt fresh and new.
More specifically it had a perfect mixture of bonus game features that made it practically perfect in every way. It allowed you to play for longer. It gave 10 free spins with a 3x multiplier. It actually gave decent amount of big wins, both in the main game and the free spins.
What was this mythical beast you ask? The original Thunderstruck game. Not the 243 ways to win sequel. But the original 9 payline, medium volatility slot. It was popular with the big better who wanted to play up to 90 a spin, to the more conservative player who could start at a small 0.09 a spin.
So Microgaming, being Microgaming and not knowing when to call it quits, made copies of the game. So what you have here is a whole host of penny slot games that are identical in every way but theme.
These are: the girly Ladies Night, the Americana themed Spring Break, the lipstick spy Agent Jane Blonde and the recently released on mobile Summertime slot.
Yes they are all the same. But on the other hand, when one slot is feeling a little tight, or you luck isn't there, just jump to the next one and try there.
If you are not sure if these are for you, why not try the whole selection at Go Wild casino? You get an exclusive £$€7 free no deposit bonus to give them a go.
The big brand Super Slots
These are what we like to call the 'Super Slots'. They are the ones you think, upon looking at them, that they have a high bet limit. How could they not? These are the big names we recognise, and so assume you'll have to pay the price tag for the name.
First, there's Starburst. It needs no introduction and it's a big brand name purely because it is still, after so many years, the number one online and mobile slot on so many players lists. If you haven't heard about it, have 10 free spins no deposit as a Vera&John bonus on us played at the low 0.10 a spin bet.
Mr Cashback from Playtech is not as well know, but has a long and established reputation for fans. Especially as it gives you your money back if you hit the same paylines repeatedly. At only 0.15 a spin, it's a bargain.
What will surprise you is that there are two other big names with the same low betting range. That would be the brand new and subtly brilliant Aliens slot machine as well as the often under-rated Hitman.
Those you should play but won't or haven't
These are the video slot games you may not have heard about, or for that matter, thought about for too long. Maybe you glanced at them or played a few spins, but quickly moved on.
Time to try these penny video slots now that you need your game to last a little longer. 
Lights from NetEnt is a pretty little one that only starts at 0.09 a spin. It's not one for winning big, but you're budget should last you a while.
If, on the other hand, you want to change something with a little more risk, then as we write in our Piggy Riches slot review, this one has plenty of hits but could be equally hard on the wallet if you don't get lucky quickly.
Play'n Go also has some surprisingly good little gems that should get your attention at only 0.15 a spin. Wild Blood slot is one we keep coming back to, as is the charming Enchanted Meadows. Lady of Fortune was also in the top 10 slots of 2014, and though we didn't favour it, clearly we were in the minority.
Where to play these mobile online penny slots
Several places actually. We've already mentioned a few of these above, but here they are again and why.
Guts casino is usually a good choice; they have Microgaming, NetEnt, Betsoft and a few more casino software to boot. Plus you get 100 free spins without any wagering requirments once you've made your first deposit.
Vera&John has all the Play'n Go slots, many of the Microgaming and all the NetEnt ones, as well as brilliant welcome bonus and over 130 mobile casino games.
Betfred is your casino of choice for Playtech slots and they treat all their international players incredibly well as you'd expect.
Those are your best bets to get some low budget, but high fun big slot wins on just pennies.