Mr Green will be giving away one million pounds over the course of 16 weeks. Meaning we could win one thousand or more on any given week, simply for playing slots.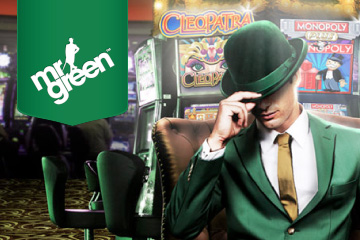 Expired
18+
The promotion on the page might sound impressive (we all want to win a life changing million pounds right?) but the reality is that you are unlikley to win a quarter of a million every month. However, instead, they are giving away a whole load of smaller prizes every month to at least 250 players. Which we think is even better as you're more likely to hit one of the given prizes.
We love de-constructing casino promotions, as often-times offers can be too good to be true. And the title grabbing "1 Million Mega jackpot" certainly rings bells and turns heads. But if Mr Green was giving away one prize of one million, or even four prizes of a quarter of a million, we would be less excited than the current promotion. Why? Because of the maths. In sixteen weeks you can, potentially, win up to £1,000 or more every week if you are lucky enough to win one drawn each time. Now as with any competition, there is a certain amount of luck involved, but don't let that get you down. We've laid out below exactly what to watch out for, and we think the pros outweigh the cons.
Why Mr Green's £1 Million Mega Jackpot Power Prize draw sucks:
If you are from Norway,Germany, Poland or the Netherlands move on. This competition is not opened to you.
All the slot games are IGT – if you are not a fan of these games, this promo might not be for you. After all, you play the slots for fun – the prize draw is the bonus on top.
You have a choice of only 3 slots to be on this month to enter the draw. Unless these are your absolutely totally complete favourites, it would have been nicer to have a wider choice, or at least 3 different slots a week, rather than a month. Variety is the spice of life after all.
How many tickets you get is a dash complicated. See below for details.
You will need to come back every week and play again to get a new raffle entry and be in with a chance to win. The previous week's raffle tickets become void at midnight on Sunday.
No mobile friendly slots. This is for online playing only. So you can't have a quick bet at lunch or on the commute to get your raffle ticket of the day.
Why Mr Green's £1 Million Mega Jackpot Power Prize draw rules:
You can win more than one time and the odds are good, as 50 random raffle tickets are chosen every week for the next month to get £1,000.
If you win once every week for 16 weeks, that's a potential total of up to£16,000 or more. Granted the odds of winning every week are pretty crazy unless you devote yourself every day to this promotion, but winning more than once is certainly not out of the question.
And if you think that you can't win more than once as 'the game is rigged' think again. The individual draws will be done by PromoVeritas Limited, an independent promotional verification service.
You can bet as little as £1 a day and you'll get one raffle ticket a day. Easy peasy and wallet friendly.
You can get as many raffle tickets as you want. The only limit is your wallet and your love of the game.
We are big fans of IGT slots. So we will have no problem playing on these slots at least once or twice a week to be in with a chance of getting some extra cash. We particularly like the monopoly slot – lots of decent features and pays out nicely.
No wagering requirements on the winnings. These are 100% yours.
The rules are actually not as complicated as we made out, we can just see yourself lose track of how many tickets we've received as we play for fun rather than for tickets.
50 winners a week. We know we've said this, but we like those odds so much, it's worth saying twice.
So how do I enter the Prize Draw?
Every month, until August, Mr Green will choose three IGT Slots as 'featured games'. You have to play and bet on those games to win.
For May, these are: MegaJackpots® Cleopatra®, MegaJackpots® CLUEDO with Free Spin Mystery Bonus and MegaJackpots® MONOPOLY with Pass "GO" Bonus.
Win or lose, every £1 wagered on one of the slots above will earn you one free entry into the prize draw. Additionally, every wager of £10 across the feature games of the week will earn you extra entries.
So you get one ticket for playing and betting £1. So far so easy. If you wager £40 on that slot in total, you'll have 5 tickets by the end of your game play. Why? Think of it as getting one ticket simply for playing and then an additional ticket for every extra £10 you spend.
Then, every Monday, Mr Green will release the name of the 50 lucky winners.
See? We lied, it's not that complicated.
Worth a spin
We love promotions that share the wealth, as we are certainly not greedy. Well… not that greedy. We are happy for others to get a slice of the pie, as long as we get ours. We would have preferred it if some of the slot games would have been mobile and tablet friendly. You never know when you might fancy a spin without a handy laptop to play on. But with good chances of winning on some good fun slots that we would have been happy to gamble on anyway, this promotion is a non-brainer. We can easily see ourselves having a session on Mr Green at least once a week and get a few raffle tickets just for the fun (and hope) of it.
So, we will recommend that you head straight to Mr Green and see for yourself if the slot games are for you. Do not pass Go. Do not collect £200… As you might collect £1,000 instead.
If you want us to give you updates on this promotion, the games for June and August and our thoughts, why not join our newsletter? We never give away details or spam. Or you could just follow us on Facebook or Twitter.