Sheriff Gaming Launches it's First Mobile Slots
There's a new sheriff in this mobile slot town…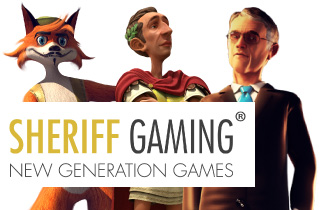 18+
We couldn't help the bad pun, but with a name like 'Sheriff Gaming', how could we resist?
This software provider has actually been around for a few years, but have only recently started to launch it's first mobile slots and games for us mobile and tablet lovers to enjoy.
So what can we expect from this provider? Well first of all, quality 3D video slots. Rivalling and even beating BetSoft in it's graphics and game play, we thoroughly enjoyed the ease of play of these new slot games. We will have to wait until a few more slots come out before we do a full review of the software, but from what we've seen, the slot machines are easy to navigate, use and work well on every device we tried.
So what games are in the planning? Slots! Oh yes…
Their much loved The Amsterdam Masterplan is now  on the small screen.
The relatively new Spartania got a mobile makeover
Incash will be arriving in mobile devices near you
The fantastic Dr Magoos Adventure will be released for mobile players imminently
Plucky foxy Mr Good will be stealing from the rich and giving you the wealth soon enough
The above games will be compatible with Apple iPhone 4, 4S and 5 and Android Smart phones. The games can also be downloaded and played on tablets including Apple iPad 1, 2, 3, 4 and Android Tablets.
You can play The Amsterdam Masterplan and Spartania brand new mobile slot games at Leo Vegas today with the others to follow shortly.
---