Blockbuster season is upon us! To celebrate getting the 100th Marvel movie (or whatever) we've put together a list of the top 5 best mobile film slots you can play right now.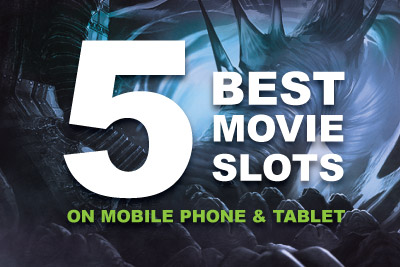 18+
And what better way to celebrate the long hot Summer than by sitting outside playing mobile slots? Whaaat? We're outside aren't we?
Usually, for us, Summer means we can hide in dark air-conditioned rooms watching spectacle after spectacle, hoping the cooling winds of Autumn arrive in good time.
However, we've been told that this isn't 'acceptable' behaviour, and so needed to create a 'Summer slots review' list. Because apparently, some of you out there actually enjoy playing mobile slots when you're out and about in the sunshine.
We figure this is close enough, right?
The Top 5 Film Slots Reviewed
Gambling and movies go together like oil and vinegar.
Though in theory many will say that the two don't mix, in reality, add a slice of bread to the mix and it's a taste sensation.
The slice of bread, in this analogy, is your mobile phone where you can open up a whole world of adventure at the click of a button.
And whilst movies like nothing better than to focus on the underbelly of the casino world, online casinos love nothing more than to showcase the best and brightest of the movies on the reels.
Here are the most fun and beautiful online mobile slots you can play based on your favourite blockbuster films, all official by the studios themselves.
5. Go a little mad with Psycho

The movie might have been in black and white, but not this technicolour slot fest.
NextGen Gaming still manages to create a visually dazzling game, and capture the unnerving atmosphere of the 60's Universal classic film; Psycho.
The Bates house is in the horizon, and thunder and lighting flashes in the background as you enter the motel for a "refreshing" shower.
Alfred Hitchcock would be proud of the tension this Psycho slot builds, as you spin and watch the reels get full of stabbing wild symbols and up to 40x multipliers.
A thrill of a ride.
Don't get mad, get playing at Mr Green »
4. Kick some serious ass on Bruce Lee
Does it count if a video slot is based on a movie icon rather than a specific movie?
We don't think so, especially when it's none other than the greatest martial arts artist of his time.
Set on a red background, with a golden dragon intertwined on the five reels, the man himself high kicks the reels alive with wild symbols that cover whole reels.
Word of warning to casual gamblers though; the Bruce Lee slot is for hardcore slot gamblers who have the patience and cash to wait for the reels to line up just right for some knock out wins.
It may not be Enter the Dragon, but it's pretty damn close.
3. The Avengers will smash your expectations

The Avengers is the third highest grossing film of all time, so is it any wonder that it gets it's own mobile slot machine?
You've got all the characters showing, from Scarlett Johansson's Black Widow, to Chris Evan's Captain America, Samuel Jackson's Nick Fury, Thor, Hulk, and Iron Man.
And seeing as we are now going to have Marvel films for the next 10 years, might as well settle in an enjoy the ride and casino games on all our screens.
That said, what will really catch your attention aren't all the bonus games in this Avengers mobile slot, but the fact that this game hides a marvellous progressive jackpot that keeps on growing the more you play.
Win hundreds of thousands on the line and the chance to save New York city from widespread destruction, what's not to love about this Playtech slot?
2. Have a dangerous liaison with Dracula
Made in partnership with Universal movies, this isn't exactly about a particular film, but more about the story of the most famous vampire of all.
Though if we had to pick a movie, it would be more Francis Ford Coppola Dracula, than the latest Dracula Untold movie.
Still, this is the classic tale we all know and love, as the king of vampire dreams of escaping to London to find his long, lost, love, Mina.
In turn, you get wonderful graphics as the bloodsucker sits by the left of your screen and turns into bats to swallow the reels at random. Dracula is a 5×4 40 payline slot that is all about the stacked symbols.
This is romance at it's bloodiest.
Bloody good wins at Vera & John casino »
1. Get sliced and diced in Aliens

There's a reason NetEnt's Aliens Touch slot is at the top of our list.
It looks as authentic as you can get to the film, with the focus on the xenomorph's themselves rather than the marines.
That said, the bonus game throws you right in the thick of it, as you hunt down face-huggers and aliens through darkened tunnels.
Survive long enough and you'll come head to head with the Alien Queen herself who may grant you the biggest prize of them all… or perhaps end you, in a bath of acid.
This is a simple game, where you aim to get to the free spins, the queen, and hopefully that 1240x your bet max win.
Better than re-living the movie? Certainly a good way to pass a lively afternoon.
In space, no one can hear you play at Leo Vegas »
These are not the mobile slot films you're looking for
Drat.
Ultimately we had to pick the film video slots that were great fun to play, as well as true to the original films.
Sure, we could have picked more iconic films such as Platoon or Basic Instinct, but they just didn't have the big wins we need to make a slot machine truly interesting.
However, if film and TV rock your gambling boat, we recommend you check out a special video preview of the new Bridesmaids slot coming out this August 2015, or get giggity giggity over IGT's Family Guy slot coming later this year.
With so many great new mobile slots coming out daily, you could never play on the same machine twice.
Summer time well spent.