We usually like to create casino news with a purpose. This one is purely for fun and some spooky inspiration.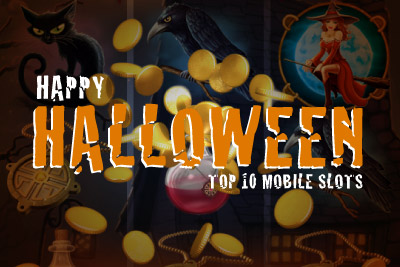 18+
Do you know how many mobile slot reviews we now have on LuckyMobileSlots.com? 156. That's a very decent amount (if we can blow our own trumpets).
With Halloween around the corner, we've noticed that we have quite a few horror and fantastical mobile slots in our collection now. Who, after all, doesn't like a good bump in the night?
Well actually one of the team of two at Lucky Mobile Slots doesn't. But she got out voted and so we are now creating a list of the best Halloween mobile slots to play.
The argument for was simple: when you are going back and forth between houses, trying desperately not to look slightly scared as your usually beautiful child /niece /godson turns into a candy monster, ready to explode in a haze of sugar rush, nothing will make you forget it all than getting a big win on a scary spin.
We are responsible adults we swear.
Our Top 10 Halloween Mobile Slots this October
10. Greedy Goblins
A recent BetSoft release, this is less scary and more 'fantastical' from the 3D video slots range. Play from the viewpoint of the greedy evil goblins, steal cash from the lovely elves and enjoy a self-indulgent Halloween.
9. What a Hoot
A simple but pretty 5 reel mobile video slot from Microgaming, this little beauty is for players who like their video slots without a whole load of features. Good one for beginners or those who like classic slots and want a few more reels to play on this Halloween.
Probably the only one of these mobile slots that can be said to be truly a little scary, the Mythic Maiden in the title will give you random prizes if you know the correct mystical words. Or… you know… put coins in it.
Is this Halloween themed? Come on… it's pretty close; in a spooky fortune teller kind of way. Don't be mean about this video slot from NetEnt – everyone knows that gypsy curses are the worst kind. Plus it's good fun and one of the less well known Net Entertainment slots.
Abracadabra! Let Merlin's magic give you extra wilds, free spins and a whole host of surprises in one of the better NextGen mobile slots.
5. Wild Blood
What's Halloween without some vampires to litter our reels? And these are some very pretty vampires, a la True Blood or Vampire Diaries, with a definite rocky American twang across it's paylines.
4. Frankenstein
Another frequent culprit of bad costumes everywhere, the original Frankenstein's monster comes Aaaalive… aaaalive… aaaaaaaaaaalive!!!  In this original NetEnt video slot based on the 1930's black and white film.
More wizards are here to entertain us, this time turning random symbols into extra wilds in a magical storm of fire and ice. Great graphics and new concepts makes this NetEnt slots one of our top three.
Because if there is nothing we love more than a great wizard are a few sexy powerful witches, able to give some incredible hard hitting free spins. This video slot from Playtech is everything a good mobile slot should be; gorgeous graphics, keeps you on your toes and some very decent wins.
1. Halloweenies
You couldn't get a better titled Halloween slot for the number one spot. The graphics might make you raise your eye brow at our choice of best Halloween slot, but bear with us and you'll see why. This is the mobile slot equivalent of being at a candy shop at Halloween and having the only key. It just keeps on giving, win after win, graphics that jump across the screen and a witch's cackle that makes you think you're in the middle of a coven. Fun and silly, but oh so entertaining.
Want to play it now? Head over to JackpotCity mobile casino, or read our full review of this psychedelic mobile slot here.
Note: You can play for free Halloween slot games in this list to try them out for yourself.
Which one is your favourite mobile slot? We would love to hear from you, so please post and give us your feedback. These are our choices, but if you think they should be re-ordered or we've missed an important slot, let us know.
Otherwise we wish you a very Happy Sweet Filled Halloween from both of us here at Lucky Mobile Slots.