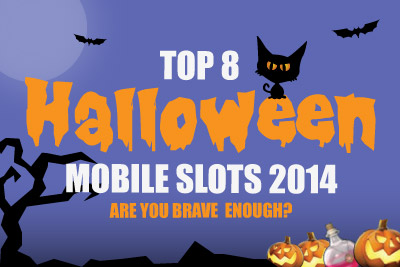 18+
It's that time of the year again. Time for boys and girls getting to get dressed up as their favourite slutty/hunky childhood horror, drink green cocktails you normally wouldn't and play on Halloween slots you might have neglected the rest of the year.
We can't help you organise the first two, but we can definitely help with the third, bringing together the latest collection of the Best Halloween Mobile Slots for 2014.
You won't see any from the 2013 list we made last year. Which broke our hearts a little of course, as there was some classic games on there. But hey, no point in doing the same post twice. But there's only so many ghoulish slot machines out there, and the best are still the best, so we would like to do a special shoutout to the brilliant Halloweenies game and beautiful Halloween Fortune slot from last year.
But since then we've dug up a load of fresh corps… we mean… new Halloween slot game releases we've uncovered for your horrifying pleasure. Enjoy.
The Top 8 Halloween slots for phones & tablets 2014
With flying witches zipping across the screen and a little potion gloop every time you press the spin button, this mFortune slot screams Halloween. Not so much scary, but cute and cartoony, this 15 payline witch slot plays perfectly on Android or iOS as a downloadable game. It's not the most hard hitting machine in the world, but it does have a progressive jackpot which is always tempting and could happily buy you candy for a year.
---
Not based on the Marvel super spy, this Black widow slot holds a much darker, more traditional, theme. IGT have created a femme fatale who is straight out of a 90s made for TV movie, but thats ok, what they lacked in budget for graphics, this video slot puts it all in the wins – up to 1,000x your bet. Will you be brave this Halloween and flirt with this dangerous killer? It's either going to go one of two ways; she'll either take all your money or you'll walk away a far more fulfilling man.
---
Another jackpot slot machine on the list, this little beauty is exclusive to one casino only. The theme is probably more disney's Monster's Inc than true real horror, but that shouldn't stop you from spinning some colourful monsters into a wrestling frenzy. It's also the slot with the smallest amount of paylines, with only five gracing the screen, making this also the lowest spin bet amount. A fun little Play'n Go game.
---
It's not often that a Betsoft Game makes it to a top list. And to be fair, this angels and demons slot is only borderline Halloween, but we dare you to go to a old hallows eve party and not see at least a couple of representatives from heaven and hell. With Good Girl, Bad Girl slot you get a little meter where you can choose the volatility of the machine. Will you pick the good girl and play it safe (but in our opinion win nothing?) or will you head straight for the leather wearing bad girl who hides all the big jackpot wins?
---
The first truly horrifying Halloween slot in our list, here's a properly bloody gory old' fashion hammer house of horror vampire slot. And we are not talking glittery skin vampires who mope around the house. These guys have sharp fangs, drink blood straight from the neck, and are monstrous to behold. It's a fairly simple mobile slot game with a free spin and click me feature that hits often. It also has a 98% return to player rate, which is wonderfully high.
---
The mobile slot based on the hit mobile game that made millions worldwide into online horticulturist. Bright, colourful, and as much fun as the original mobile app, the Plant Vs Zombies slot has a whole range of different undead for you to battle this Halloween. The free spins are hard to catch, but when you do, it's usually more than worthwhile. Meanwhile, you have a whole host of zombie bonus rounds to keep you company, plus a gargantuan progressive jackpot prize.
---
You want a scary slot? A true, bring you back to your primal fear type slot? Then this NetEnt slot is it. Based on the cult movie by the same name, this game is a true tribute to the xenomorphs we know and love. It's graphically beautiful, especially when you head to the free spin zone and you have to shoot down face-huggers and aliens as they pop out of the darkness… until finally… if you are lucky and don't run out of ammunition… you must face down the alien queen herself.
---
Bet you were expecting the Alien slot up here right? But Aliens only got four stars to this Microgaming usually hidden gem of five stars. It's probably not one of the better known games, but only because Microgaming release so many 243 ways to win mobile slots every year, some get lost in all noise. And this dark circus, full of gothic creatures who are more than a little twisted, deserves your attention. Not for the faint of heart, if you're brave enough, enter this tent for some big win thrills.
Happy Halloween spinning!
P.S. Can't find what you are looking for? Take a look at over 340 mobile slots here »