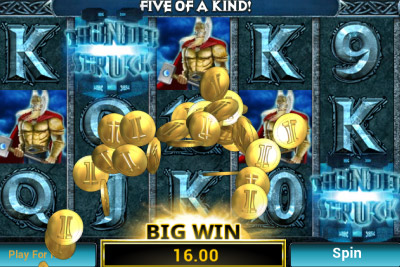 UPDATE: It's now available to play.Visit JackpotCity or Guts mobile casino We'll update our review to let you know when others have it so stay tuned.
How excited are we? More excited than a mouse in a cheese factory. More excited than a monkey in space! Or, even, seeing the god Thor running around naked in a thunderstorm…
Too much?
Forgive us, but Thunderstruck II, is by far one of the best Microgaming slots of all times and prior to November 5th, the only way you could enjoy it was by spending half an hour to download it on your mobile phone. Half. An. Hour. We kid you not, we did it, and came close to giving up, if it wasn't for the fact that we felt obligated to wait so we could review it for you.
So what did we think of Thunderstruck II mobile slot… well we were not disappointed. It was everything the online video slot is, losing nothing in translation. But half an hour is far too long for anyone to wait to play even to play for free. It just wasn't user friendly.
Will the non-downloadable version, which will be available at our favourite online mobile casinos JackpotCity & Mr Green, be better?
We suspect so. Microgaming might be in the habit of pumping out mobile casino games just to to be able to say that they have the largest amount of mobile slots available, but even they won't dare mess around with near perfection.
We say near perfection because part of us will always love the original Thunderstruck mobile slot, as it just hits with such a bang that it's hard not to love it. But Thunderstruck II is a completely different horse of a different colour, keeping the same wonderful Viking God theme, but adding un-lockable features and bonuses to keep the excitement lasting longer. The more you play, the more you achieve, the more you win. It's a simple but wonderful mechanic.
So… Remember, remember, the 5th of November!
We recommend you head over to Guts mobile casino now and enjoy all that Thunderstruck II has to offer.