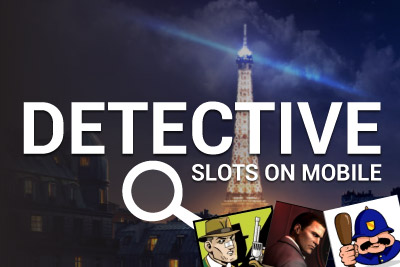 18+
We are big fans of detective themed mystery slots. Cops and robbers have been chasing each other since the beginning of time and we've been fascinated by the chase since the first newspaper printed the first grisly murder and the first detective pointed out how elementary it all was.
Whodunit? Why do it? How did he do it? Spend a few minutes discovering for yourself our favourite sleuth slots for mobile and join the rank of Sherlock Holmes as we take you deep into the best detective slots around.
What makes a great detective slot?
This little piece is all about the theme of course. Whether it's a great private eye beating down the master criminal, or a game of intrigue where you never know who will win, this is all about the thrill of the chase. They have to be great mobile video slots to play of course and be as easy to enjoy whether as Android slots or iPad / iPhone slots.
So allow us to take you away as you witness some of the great detective work and gradually work your way through our top 8 mystery themed slots.
Our story begins on a day just like any other, as one of the most beautiful dames you've ever seen walks into your office…
1. Jack Hammer VS Evil Dr Wüten (NetEnt)
The very first, the original, the one and only… Jack Hammer Touch slot. You can see Pearl talking on the phone as she calls Jimmy the newspaper boy with a the headlining news: The city is in danger! An evil genius is threatening Grand City with his giant blimps and poisonous gas. Only one man can stop the evil Dr  Wüten and he's the colourful, bright and broken nosed Jack Hammer. Don't worry Pearl! We will save you from the clutches of this evil scientist.
Why this one? It's 5 reels, 25 paylines of glorious technicolour comic book fun. With every symbol unique and sticky wins, this mobile detective slot is high adrenaline fun.
2. Cops n' Robbers (OpenBet)
The evil Dr Wüten may now safely be behind bars, but his worldwide plot see's you travelling to the UK as you join forces with the local police bobbies to catch his low level goons. Without a head boss you'll need to chase down the thieves as they try and grab as much loot as they can before running away from the law. Will the dice be in your favour as getting more and more multipliers around the streets of London? Or will you be distracted by the buxom sexy English copper? It's an ol' fashion Cops n' Robber slot chase.
Why this one? Silly, fun and hectic, this low risk slot will stretch your budget and keep you playing whilst giving you hope for a decent payout.
3. After Night Falls (Betsoft)
No sooner are you finishing frolicking with women detective in tight shirts that you get a phone call from Inspector Rouseau… Not, in any way, related to the more famous Inspector Clouseau of course. Just coincidental bumbling trench-coat wearing moustached detectives. But he is stuck and he needs your help. After hearing how well you've done in London, it makes sense to call on your help after a series of burglaries leaves him befuddled and bemused. Everyone know that all the intrigue begin After Night Falls…
Why this one? With a 97.27% RTP rate, this Betsoft mobile slot is one with the best return and is very feature heavy.
4. Jack Hammer 2: Fishy Business (NetEnt)
It's back to Grand City you go as you've been invited to the Major gala as he celebrates Jack Hammer having saved the city. But no sooner have you sipped your first sip of champagne before Don Crabby shows up and steals the beautiful singing Pearl! It's up to you and Jack to catch up to the getaway speed boat and meander your way through a dock of electric eels and 99 paylines. How will you get out of this sticky situation? By playing Jack Hammer 2 mobile slot of course.
Why this one? Not as hard hitting as the original, but good fun with the trademark stick wins and constant action on the reels.
5. Pink Panther (Playtech)
Don Crabby now sleeps with the fishes and there's no time to rest as the real Inspector Clouseau calls you, exasperated and speaking in funny accents. That pesky Pink Panther is giving him headaches again and if he keeps hunting it down he might falls into another embarrassing situation. Can you spy down the paw print paint spots and get yourself one of the many random cash rewards littering this 40 payline mobile video slot? Who cares when you can listen to such great 1960's jazz tunes.
Why this one? Because as you open the five reels you'll fall in love with the mischievous pink cat and the two progressive slot jackpots on display.
6. Cluedo Classic (IGT)
Chasing the Pink Panther has left you exhausted and with little to show for it. What would be more relaxing than a stay at a dark and mysterious manor house? With 6 strangers all coincidentally named after colours? What could possibly go wrong? Any 6 year old should be able to answer that as you try and solve this Cluedo Classic mystery slot and go back to the days when you could genuinely call your brother / sister a murdering scumbag.
Why this one? Nothing shouts detective slot quite like the original board game based on Agatha Christy characters. The perfect place to practice your parlour scene big reveal: was it Miss Scarlet, with the knife, in the kitchen?
7. A Night in Paris (Betsoft)
After almost killing yourself at the Cluedo manner you've fallen on hard times. Lost and penniless in Europe, you head to the city of lights in hope of making your way home. Here you meet the tiny thief Jacque who talks you into helping him steal famous works of art out of the Louvre. With so much crime and murder witnessed you fall prey to temptation for the thrill of it. Sure you probably won't get away with it, but you could just get enough to keep you going till the night after A Night in Paris.
Why this one? A decent 30 payline mobile slot that ticks all the boxes, keeping your budget steady rather than full.
8. Heist (Betsoft)
After your stunt in Paris you've now gained a reputation as a master thief. You've honed you're skill now where no bank in the world can fight your safe cracking skills. If Jack Hammer could see you now… he'd chase you down like the master criminal you've become. No time to reminisce though. You've only got a few precious minutes as the alarms are triggered and you take as much loot as you can from the high tech vaults. No regrets, it's all about the cash.
Why this one? Get dragged back for one last job as Heist video slot keeps you hooked with a bonus feature that just keeps on coming.
Did you get the loot of a lifetime?
So there you have it. Your story from rooky cop to master criminal in 8 detective themed slots. Where you rewarded for your loyal service to the force? Or did you make your fortune through darker and dangerous ways?
Our top 8 cops and robber mobile slots may surprise you, especially with the larger selection of Betsoft slots, but who knew the bright and chirpy developer had such a love for the murder mysteries?
If you want to go and start your story, two great mobile casinos have all the above slot games for you to play: Vera & John (with 10 free spins no deposit on Starburst) and Guts Casino (with 100 free spins with no wagering after your 1st deposit.)
Get sleuthing.