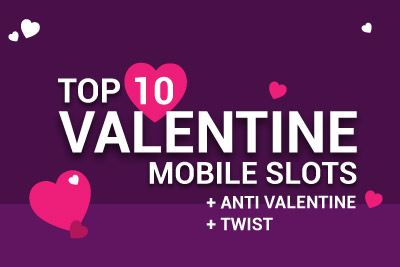 18+
Chances are if you are reading this, you want one of two things: 1. to find a mobile slot game to get you into the loving spirits or 2. to try and fight the good fight and stay away from all the hearts and candy. Fair enough either way and, as expected, below you'll find two good lists for both.
But if you are bored (as we were) and want something a little different, then we invite you to read our tale of Love! Romance! Robots! and Diamond Heists! We researched a little Mills & Boons and then decided to create a good plot twist, using all the mobile slots we list below. And it starts as all good love stories should, with a girl, meeting a boy…
Top Ten Valentines Slots
Aaah l'amour! Even the most cynical of us sometimes needs a little romance in our lives, which is why themes of love and enchantment are amongst the most popular around. If you are looking for a special valentine slot machine to get you in the mood, you can pick from any of the mobile slots below in order of most romantic to least:
Top Ten Anti-Valentine Slots
Let's be honest, many of us would rather choke on our own necktie than have to play some valentines slots. So here, we list the mobile slot machines that have as little as possible to do with Valentine's Day AND (coincidentally) fitted in nicely with our strange little story below. Enjoy.
And now for something completely different:
A Valentine Slots Story for Romantics and Cynics Alike
She ran. She'd been stupid and allowed her burning desire for love to get the better of her. He was a liar, a monster. Her confusion in her head kept her running, too afraid of his words that followed her as she made her escape.
Yet it had started so innocently. He'd walked in to her shop to buy flowers, looking lost and confused in the multitude of colours. She'd seen these men before, looking for a grand romantic gesture, usually for something to help forgiveness move along a little faster.
He was handsome, there was no denying it. Tall and with piercing green eyes, she was quick to avert her spanish eyes in embarrassment for staring so intently. He'd asked her opinion over flowers. For a truly unusual gift she'd given him scented cherry blossoms in a golden pot.
He kept coming back then, always with more strange excuses to buy flowers, always buying something different, but really an excuse to spend hours talking about nothing. It took a month of almost daily visits until she'd agree to a night out.
But when they arrived at the copa, a funny little place in the heart of little Italy, things had started to go wrong quickly. This night, which had had dreams of immortal romance in the air, became anything but. He kept stammering, trying to say something important to her, but never managing. When it seemed like he would finally say what was on his mind they were approached by a tanned malicious presence… it was Doctor Love! The evil mastermind behind the Da Vinci's diamond heist. He pointed a pink florescent gun at her date and said:
"You think you can hide from me Mr Vegas! You stole my mega fortune and I want it back! You may have found her again, but she will always be mine!! Come to me."
He'd clearly expected her to do something, but lost and confused, she shook her head. Mr Vegas smiled and said "She doesn't remember a thing Dr Love; her time in subtopia, the fact that she is the Atlantis Treasure. I wasn't sure it was her until you confirmed it, but now I know I'll take her back to her rightful place in the enchanted meadow under the sea."
Her date then turned into a Transformer from Cybertron breaking the restaurant walls around him. Dr Love was quick in action, he took out a flowery remote control which crash landed a giant decepticon wearing a nurse's uniform. Dr Love's robot pointed a giant pink needle at her now mechanical date and crashed into him, destroying all that was left of their little restaurant.
She'd run then. And kept running. She wasn't sure where she had ended up. A garden maybe. It felt like she had been transported through a magic portal to a parallel universe. His words kept running through her mind in confusion, but it was her broken heart that hurt most. Voila! There was the true reason behind her tears, knowing that all those stolen moments with him had been lies. Nothing else seemed real.
She felt a gentle hand on her shoulder, she turned to see him, standing in his beautiful human form. "I'm sorry" he said sadly "I did not mean for you to find out like this. But I had to be sure. It was always my mission to bring you back. Dr Love stole you, brainwashed you, but you never returned… I'm… sorry…. If I had told you the truth you would never have allowed me to get so close."
He brought her to her feet. Close they now were, and there was nothing they could do about the extreme feeling coursing through their non-human veins. They stared into each other eyes. An Iron Man and an underwater amnesiac princess; it was an impossible love. And yet in that moment it didn't seem to matter, he took her in a gentle embrace and finished the night with a starlight kiss.
(Love the story? Even if you hate it most of the mobile slots we've mentioned can be played at Vera&John, Leo Vegas and Guts mobile casinos.)
P.S. Happy Valentine's Day