Vera&John Casino Now Accepts Australian Dollars
Everyone from Oz is now welcomed at Vera&John mobile casino as they add AUD to their list of currencies on offer.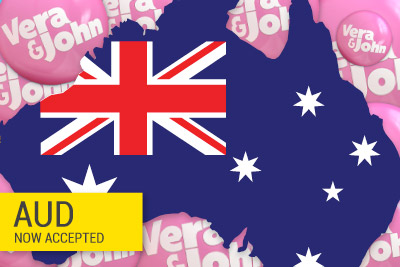 18+
If we truly love the casino, most of us, if forced to, will play in an international currency we recognise. But it's not ideal is it? Having to convert the amounts you deposit, the amount you are playing and winning.
Well Australian slots players will be happy to know that Vera and John, one of our favourite mobile casinos, have added Australian dollars to their long list of currencies which includes GBP, Euros, Swedish Kroner, Danish Krona, and Norwegian Kroner.
In honour of our Australian readership here is a list of 'Australian themed'* mobile pokies available at Vera & John casino:
*These might not so much be 'themed' as 'loosely made up to fit into this section to give you a showcase of their excellent range of Aussie mobile pokies.' Close enough hey?
Head over to Vera&John mobile casino now to enjoy their vast range of slots on your mobile or online or read our review of this excellent Australian mobile casino.
---