Vera & John Casino Rewards You With Precious Coins
Get rewarded for every spin at Vera & John with their new loyalty program.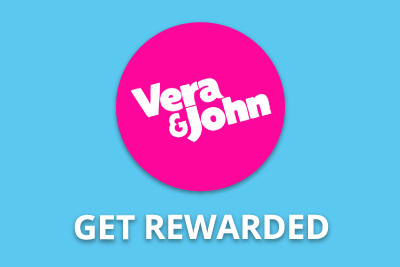 Expired
18+
Let's be honest. As players we tend to be fickle creatures. Sure we will find a few favourites (ours are clearly listed) but we tend to jump around depending on the games we want to play, the promotions on offer and just… well… because.
Vera&John mobile casino has always been a favourite of ours however, due largely to their huge selection of games and slots tournaments. So we were very happy when they announce that players will now be getting paid for their loyalty to their casino.
That's right – paid. Every time you bet, every time you play in a slot tournament, every time you spin those reels, you'll get coins added to your account. But you won't just get rewarded for spinning, you'll get coins playing a certain number of different games, winning a certain amount on a game, or just logging in every once in a while.
Remember the tickets you use to get as a kid at arcades? Every game you played got you paper tickets and you could eventually replace them for prizes? Same idea. Once you have enough coins you can head to the Vera & John shop and replace those coins for prizes.
Currently these coins can be exchanged for bonus chips, free rounds and locked bonuses at different prices. Various prizes will also be given based on activity such as badges, new avatars, tournament awards and a wide variety of achievements.
So generally, the more active you are at Vera and John, and without needing to bet big, the more coins you'll get for prizes. Best way for you to learn is simply to head over to Vera & John casino and try it out for yourself.
---