It's 2019! Out with the old, and in with the new as Video slot casino replace their Casino Races with the new Clash of Spins. So what is it, and is it worth playing?
Nope, this isn't just another slot tournament at mobile casinos. Videoslot already has that in their glorious Battle of Slots concept.
The Clash of Spins is a new promotion that is meant to replace their Casino Races. In many ways, if you are familiar with the latter you'll recognise aspects of this Videoslots Clash of Spins.
But they've modernised the concept, streamlined the process and (more importantly) changed what and how much you win. So let's start at the beginning and take a look at what this is all about.
What is the Clash of Spins at Videoslot Casino?
In short, the Clash of Spins is a competition that runs at Videoslots casino every two hours, where you get points for spinning on your favourite slot.
You can pick any slot game in their vast catalogue of casino games, and the real money spins you take over 0.20 will give you a point.
These clashes run around the clock, 24 hours a day, 7 days of the week, 365 days a year.
You don't need to join the competition, click a special button, or find a specific game. Just log in to your Videoslots casino account, find the mobile fruit machine you love and get spinning.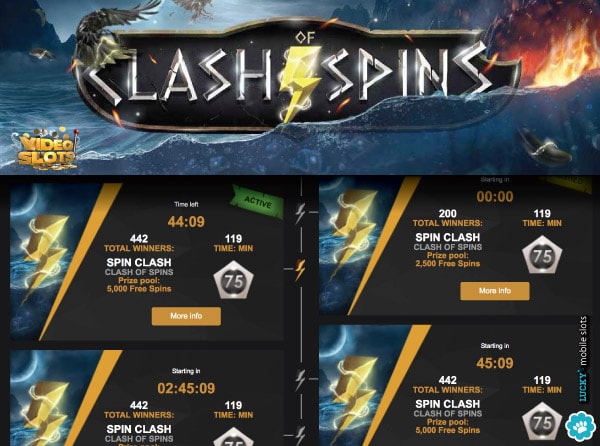 How to get the most points in the Clash of Spins leaderboard
Whilst you can just log in and play, it is worth having a quick look at the Clash of Spins page to take a look at the current clash.
Because not only will you see how much you can win, but how many points you can collect.
What do we mean by that? Well, in short here are all the points you can theoretically get:
Bet 0.20 a spin and you'll get 1 point
Bet 0.40 a spin and you'll get 2 points
Bet 0.60 a spin and you'll get 3 points
Bet 0.80 a spin and you'll get 4 points
Bet 1 a spin and you'll get 5 points
Bet 1.5 a spin and you'll get 6 points
Bet 2+ a spin and you'll get 8 points
Here's the thing though; not all clashes will go as high and give you extra points for betting higher.
Get 11 Free Spins + up to €$200 Bonus
Try Videoslots casino with 11 free spins plus up to €$200 in bonus money and extra on top on your first deposit
18+ New customers only. Free Spins are Wager-Free. Wagering and Full T&Cs apply.
Why it's worth looking at the Schedule of the Videoslot Clashes
Some will just give you one point for every 0.20 you spend, others will give you points up to 0.60 a spin, and so on.
In short, there is a max limit to how much you can bet – some will cap the max amount at 2.00 a spin, some will be only for casual gamblers betting 0.20 a spin and that's it.
The reason for this is to allow for all players to find a clash that suits them. So if you bet more than most, you might want to have a look at the schedule for the Clash of Spins where you can bet high for more points.
But if you have a more limited amount, maybe find a clash at midday or midnight (fewer players) for a competition where you only get points at 0.20 a spin, so you have a chance at that leaderboard.
In short, not all Clashes are created equal and this is reflected in the prizes you can win.
They give away as much as 10,000 casino bonus spins on top slots
So this is the big difference clash to clash. Because at the end of the day, you can bet 0.20 on any slot, at any time, and you are guaranteed to be accumulating at least 1 point.
But whether you win or not depends on the prizes available and the number of spins you'll win.
These vary immensely. From 74 people sharing 500 free spins (top prize 30 spins) to 500 gamblers sharing 10,000 free spins (top prize 500 spins).
Obviously, the bigger the casino bonus spin prize, the more competition you'll find, and the higher the max bet – that said, these rarely go higher than 2 a spin.
Is it worth playing on these Clash of Spins?
Like any casino competition or online slot tournament we always say the same thing: if you love the casino, and it's not asking you to do anything you wouldn't do anyway… go for it!
So if you love to play at Videoslots casino as much as we do, because of their amazing selection of games, fast cashouts, awesome tournaments and easy to play site, then get started.
You can choose whatever slot you want to play, and at any point you might end up on the leaderboard of one of their clashes, giving you extra spins on top slots.
Never gamble more than you usually would or play for longer in order to just accumulate Clash of Spins points.
The prizes here are free spin bonuses with no wagering requirements. So you keep everything you win, but at the end of the day, only lady luck will decide if and how much you win.
So play, enjoy your favourite slots at one of the best casinos on mobile around, and more important of all: have fun!
Play Now at Videoslots Casino »
How are these different from the Casino Races?
If you are already a player at Videoslots you may have gotten used to how the Casino Races worked.
And granted, it's not all improvements. The big change you'll notice is that instead of winning real cash prizes, you win free spins instead.
Granted, they've removed the usual wagering requirements of 20x the bonus amount, but it's still not cash in your pocket.
It's 10, 20, 500 spins on a slot machine. Meaning you might win 1,000 in cash, or you could win nothing.
There are no guarantees in gambling, it's just meant to be a fun extra diversion to add to your usual gambling experience.
Get 11 Free Spins on Starburst
Sign up to Videoslots casino and get 11 free spins on Starburst slot on your first deposit
18+ New customers only. Free Spins are Wager-Free. Wagering and Full T&Cs apply.
The Clash of Spins promo is better and here is why:
The Casino Races ran over the course of the whole week and kept with the same points system.
So you know who won at the end of the week every single week? The high limit gamblers with the wallets to match.
Granted, the cash prizes were split over thousands and thousands of players, so if you only gambled a moderate amount you maybe won cash prize number 14,200 which gave you an extra $10 in your account.
Now, because of the point system limits and the number of different clashes a day… everyone gets a chance.
It's not just the same top 10 Videoslots gamblers who walked away with wads of cash every week. At any point, on any day, you could get some extra free spins just for gambling your usual casino budget.
The prizes may not be as high, but the chances of winning are better and fairer. Isn't that just better for everyone?
Read our Videoslots casino review or head of there and try Videoslots today with their generous welcome bonus offer and you might just find yourself a new favourite, fairer, better, gambling site.
Start Playing at Videoslots »
Get 11 Free Spins Bonus + 100% up to €$200 Bonus
T&Cs Apply