We've Launched Lucky Mobile Casinos!
You asked and we provided. No longer satisfied to hear about slots, we now give you more in-depth mobile casino reviews.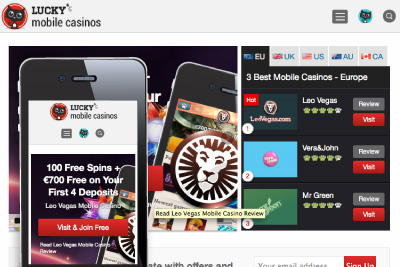 18+
We love slots. You know that. We know that. Anyone who has ever read Lucky Mobile Slots knows that.
However, as much as we love the mobile casinos here on Lucky Mobile Slots, we found ourselves researching and playing on different mobile casinos as we found new slots and new games. Now not all of them are good. Many of them, in fact, were not. So do we write every review here in slots? Regardless of what we thought? And where do we put all the promotions? Break apart download vs instant mobile casinos? Or separate the different offers and casinos for different countries?
Honestly, we scratched our heads a little and instead decided to create a whole new site devoted to the huge and growing world of mobile casinos.
So, introducing, for our wonderful readership… Lucky Mobile Casinos!
What will you find?
Casino Reviews of every mobile casino we've played on so far
A thorough 5 star rating system broken down by the mobile experience, the software and games, the bonuses, security and payment, customer service and licensing.
Our top casinos broken down by countries: Europe, UK, US, Australia and Canada
A more detailed look at the welcome offers, bonuses and promotions and whether or not you should take them
Casino softwares and how they are tackling mobile
Lucky Mobile Casinos will continue to grow, as has Lucky Mobile Slots. Meant to compliment each other, we hope you'll enjoy both sites so you can have the best mobile casino experience.
Check out Lucky Mobile Casinos to find your next mobile casino and let us know what you think.
---