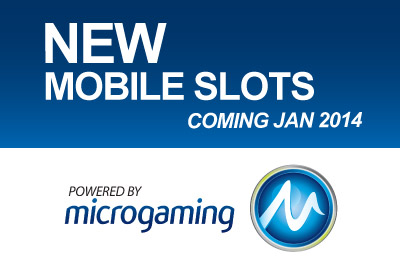 18+
The new year is coming, and with it, new mobile slots. We've already spoken of our excitement at seeing Twin Spin from Net Entertainment turn mobile at the end of Jan. But not to be outdone by their online gaming rival Microgaming have announced the release of two new mobile slots to be released ahead of Twin Spin.
There last attempt in December, was, to put it nicely, poor. Reel Thunder did not get our motor running. Perhaps Microgaming spent so much time on Thunderstruck II November release that they used up all the mobile slot magic by then?
Either way, it looks like they are back on track with two new mobile slot releases to get excited about in January. And when we say two, we really mean one. The other is a bit of a mystery.
Isis Video Slot is Coming to Mobile
If you've heard or played on this online slot, chances are you are a pretty old school gambler. Or you like your slots with a side order of risk and a big glass of BIG WINS. This is a high volatility slot = risky, risky, risky. You'll need a big budget and some patience, but you might just get the kind of wins you only dream about. You'll need a good 200 spins to hit the free spins, which at the minimum bet of 0.01 over 25 paylines, means committing to at least £/€50.
And we won't lie. You might not see any returns. But if you hit those free spins, which you can get 20, 25 or 30 for 3, 4 or 5 scatters, they come with a massive 6x multiplier that, with the right symbol, create the kind of maths that can make a huge difference to your wallet. To be fair, you don't always need the free spins, the base game can suddenly give you a five of a kind win that will get you nicely over your starting budget.
Isis mobile slot is for slot players with big cojones, steady nerves and the disposition to know when to call it quits.
Update 15/01/2014: You can now read our Isis mobile slot review or head over to Mr Green, Guts or JackpotCity to take a look for yourself.
Centre Court Video Slot is the Second Mobile Serving
Tennis… serving… serve… see what we did there? Ok, maybe we've read far too many bad cracker jokes during the Christmas holidays. Forgive us.
No we'd never heard of this online slot before today either. We try to play as many slots as we can to get a more thorough knowledge for you, but Microgaming has 400 slots online alone, and many are just copies of each other. We are bound to miss some.
Centre Court is clearly one of those and was released back in 2009. Themed around one of the most prestigious tennis championships in the world, this mobile slot looks to be the opposite of Isis. Low volatility and low risk, it comes with free spins, scatters, wilds, 9 paylines and 5 reels.
This mobile slot will pay little and often and could be good fun if the graphics allow. It does come with 18 free spins with 'up to 5x' multiplier, which could make a nice difference. On the max bet of 22.50 it is possible to win up to 11,250.00 on the base game and a whopping 112,500.00 on the free spins. So it could certainly have some interesting mechanics working in the background.
Update 15/01/2014: You can now read our Centre Court mobile slot review or head over to Guts or JackpotCity to take a look for yourself.
Want to try your luck at Microgaming mobile slots?Jackpot City and Mr Green both have all the mobile Microgaming slots games to play right now.
Still not sure? Check out our list of new mobile slots. These are all the new releases in the last two months. Maybe something will catch your eye.