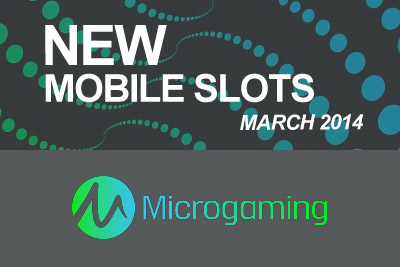 18+
As always, Microgaming have gone deep into their past portfolio to release two 'new' mobile slots this March. Ok, they are not 'new new' in that both of these online video slots were released a few years back and now are making their way to your handsets. But you know what? We are going to hide our usual cynicism and say that we think these slot machines might be ok.
Why? Because last month Microgaming surprised us by releasing not one but two brilliant new slot games that we thoroughly enjoyed. Who cares if they were both a year old? Starlight Kiss and Twisted Circus provided something for every one: a little low risk romance on one hand and one high risk twisted fire starter on the other.
This month, they are celebrating the coming of Spring in the northern hemisphere by throwing us deep into the southern jungles. The two mobile slot games in question are… two we've never heard about from the online world.
Oh.
Hello cynicism our old friend. Nice to see you back. Come in, have  a cup of tea and a cookie.
Mayan Princess Mobile Slot
We actually went and played on this online slot and remembered that we did play it an age and a bit ago, but never returned to it. To be fair, that doesn't necessarily say anything bad about the game; there are about 400+ Microgaming slots you can you play and if the game doesn't grab your attention there and then… meh.
It didn't then, and it doesn't now. The graphics are fairly generic, with Mayan corn, chillies and a busty snake wearing princess on the reels. We suspect it will probably look and play nicer on the larger tablets, where the details of the design will stand out more, than on the smaller mobile phones where the small screen will just make all the symbols a confusing mess. It appears to be around the medium to low volatility, with 20 paylines and 5 reels, wilds, scatters and a free spins round with 2x multipliers.
Update 4th March: Play Mayan Princess mobile slot now at Guts casino and  Go Wild
Tiger's Eye Mobile Slot
From the depth of South America we now travel to the wild Indian jungle were the Bengal Tiger waits to trap you with it's golden eye…
Wait cynicism! Leaving so soon?
Because Tiger's Eye slot actually looks exciting. Released back in 2010, we completely missed this one and had no idea it existed. Thank-you Microgaming for re-releasing it on mobile so we could potential rediscover it. Because unlike Mayan Princess, which is as generic as it comes, Tiger's Eye has a few enticing features that could bring it out of the jungle obscurity.
At 5 reels and 40 paylines, it probably wont be for the more conservative players, but as it's of the higher variance, that's ok. You'll need a healthy budget to keep playing. What makes this game exciting is two things:
Stacked wilds on the reels (hurray!)
And an unusual free spins bonus feature
You'll only get 10 free spins, but on each free spin the multiplier increases by one, so on your last spin your get a 10x multiplier.
Now, we purposely didn't play the online version for very long because we wanted to come to it with fresh wide-eyed glee when it was released as a slot for mobile phones. But this one got us excited.
Update 4th March: You can now play Tiger's Eye mobile slot at Guts and  Go Wild mobile casinos
But That's Not All…
So the offering this march from Microgaming is 50/50. Fine, we can't expect awesomeness every time (well we can, but that's what leads to our ulcers so we are trying to stop).
But, even more exciting news, which we hope to be able to tell you all about tomorrow, is that we've heard along the grapevine that Microgaming will be releasing a third BIG slot name release this March. No, not Terminator II or the Game of Thrones slot game as we reported last month (you'll have to wait till summer for those), but an online slot that was only released last autumn.
We can't tell you more until we confirm it with our casino sources but… here's a clue… It's the slot you deserve, but not the one you need right now.
Can't wait to play all that Microgaming has to offer? Go Wild and Jackpot City both usually have all Microgaming mobile slots before anyone else and are top mobile casinos.