We may be writing this before Christmas, but that doesn't mean that 2015 isn't already getting full of new casino games.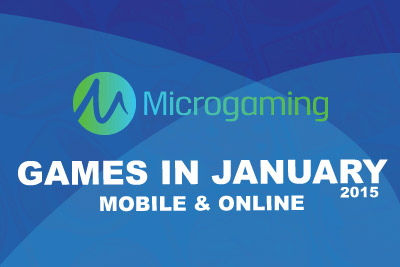 18+
And we say games because one of them isn't a slot machine.
But hey, a little variety is no bad thing, especially as the mobile slot machines in questions are not all very exciting. Which is a shame when you consider that they are fighting against NextGen's new Holly Madison slot and NetEnt Tornado Farm Escape.
Let's get straight to it and see what Microgaming has in store for us in January 2015. Will it fizzle or bang?
Gung Pow Online Slot Game
Sadly, the one 'new', (read. not previously released), game is an online slot celebrating the Chinese New Year. Why unfortunately? Well, for one it's not mobile.
And for two, whilst there is plenty of bang with the traditional fireworks, the rest of the theme is as generic as you can create with Chinese lanterns and lucky coins on the reels. Gung Pow doesn't actually even mean anything. We Googled it.
It's like someone wrote 'Inglash Teeee' in the hope it sounded British, but for China.
Yet there is hope in this 243 ways to win game, with free spins and 3x multipliers. It resembles The Twisted Circle slot in terms of bonus features and reels. A game we highly rated.
Update 7/01/20145: Gung Pow is now available to play online at Vera&John casino »
Here's the full promo video:
Big Kahuna mobile phone slot
Want to know how old this Microgaming slot game is? It first came on the scene on the 27th of January 2004. When it comes in 2015, that would make it 11 years old.
Talk about searching far into your past.
The 'tribal' theme, as they call it, is basically 9 paylines, 5 reels of raspberries, oranges, watermelons and lychee fruit. Because that's the tropical fruit machine alternative to cherries, lemons, melons and grapes? We guess?
There are also two click me bonuses, which with a 888x your bet max win, could be worth searching for. Yet we doubt this will replace our traditional 9 payline favourites Thunderstruck or Summertime slot.
Sure Win is the only sure win?
Sure Win mobile slot refers to that dead certain blind faith gamblers can get when the horse you are backing is almost certainly going to win.
It started it's life as an exclusive online slot for Ladbrokes (the UK sports bookie), so you can take a guess this is for horse-racing fans and the brits in particular.
And it's now coming to mobile at all good Microgaming casinos.
15 free spins on Avalon
Try GoWild Casino and get 15 free spin no deposit on Avalon Slot
But whilst the theme does nothing for us, the bonus features get our interest.
Free spins & wild multipliers
Why? Because the wild comes with a 3x multiplier, and the free spins increase and decrease depending on how many scatters you get.
3 scatters gets you 12 free spins with 4x multipliers, four will give you 16 free spins with 3x multipliers and five will award you with 24 free spins and a 2x multipliers.
As such it's one of the few games where the volatility decreases the more scatters you get. Weird, but interesting.
Which means that there are some impressive wins to be had here, especially with that wild adding to the multipliers.
Update 07/01/2015: Now available to play at Guts Casino »
Vegas Downtown Blackjack
Probably one of the latest releases, if you don't count Gung Pow, this Microgaming mobile blackjack game came out originally in July 2010.
Online, it's a multi-handed casino game. On mobile? It hasn't been confirmed yet.
Still, we know our audience aren't huge Blackjack fans, but the reason we mention it is that it's the first mobile blackjack game of it's kind.
The name refers to the rule found in downtown Las Vegas casinos, where the dealer peeks on all 10-value cards and aces. Played with only 2 decks of cards, if this does end up being multi-handed, its a must for connoisseurs of the game.
What's our verdict?
January is traditionally not a good month for new casino games or slots of any kind. Mostly because everyone rushes out to get their best game out before the Christmas rush.
Which is why we got the excellent Game of Thrones slot game in December 2014.
It's like even the software providers get the January blues and are releasing games just because it's expected of them.
More Big News
At the end of January / Beginning of February we get news of the BIG game releases for the whole of 2015.
So this is more of a 'watch this space' kind of month, and what we get is old and tired. Even the Sure Win game just about makes it interesting because of those big multipliers.
Yet, Microgaming's average machine is usually superior to the best of most of the other softwares out there.
So if you want a good Microgaming bonus, get £$€10 free at 32Red casino (UK, Italy, Germany, Australia & Canada only).
Otherwise head to Guts Casino for 300 in bonus cash and 100 free spins.