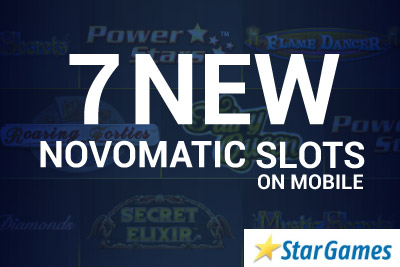 18+
We recently started adding all the new Novomatic slots for mobile to our growing collection of slot reviews. We were so proud of ourselves when we finished the last of the five games that they had currently put on their mobile casinos that we smiled a happy smile, wondering when the next release will be out.
After all, casino slot software providers usually transform one or two slots to mobile every month or so; we should easily be able to keep up right? It's not like they are going to just pump them out like an industrial factory line. Novomatic mobile slots will surely keep the high standard's we've come to expect of the land-based counterparts. Right?
Well… yes. Except, apparently they decided that a factory line was just the thing.
And then, out of the blue 7 new slots appeared
Did we cry? Did we sob about the now late nights it will take to catch up with all these new releases?
Of course not. We get to play games for a living. So shut it and get playing.
However, on the basis that there will be plenty of new releases from all the other softwares as well, and there is only so much coffee in the world, we've decided to write down the highlights of the new releases here before you get the full glorious technicolor reviews soon.
The good news? Most of these are great Novomatic slots from their back catalogue of their most popular games. We've put the star rating we think they'll get, based on our past experience with this software provider, but the ratings may change once we write the review down properly.
Fairy Queen – 4 Stars
A brilliant high volatility slot with a unique free spin feature where you are guaranteed to win on every spin. Careful though, this 10 payline video slot needs careful budgeting as she's a capricious slot machine.
Read our Fairy Queen review here »
Dazzling Diamonds – 2 Stars
A fairly standard fare, with jewels and diamonds sitting side by side wilds and scatters. No free spins and fairly low key graphics makes us unexcited about this one. A copy of the Just Jewels slot.
Mystic Secrets – 4 Stars
This one we are excited about, with big wins hiding in the free spins… much as you've come to expect from Novomatic slots. Another one to be careful of – this is Book of Ra Deluxe mobile slot risky.
Power Stars – 3 Stars
Now here's an interesting one. Classic in look and feel, but you'll get one free re-spin everytime the wild symbol shows up and expands to cover the whole reel. Sounds familiar? It's Starburst touch but without the razzle dazzle.
Flame Dancer – 3.5 Stars
We think this is going to be 4 stars, but this little interesting gem has slipped under our radar so we simply don't know. Upon opening we like the look of it's exotic location, the fact it's one of the few Novomatic video slots with 20 paylines and at the lower end of the volatility scale. Add expanding wilds and free spins with extra wilds and we think this might be the rising phoenix of the bunch.
Roaring Forties – 2.5
It could be two stars, it could be 3. The look of it is as old and classic as any fruit machine, except it has 40 paylines. Didn't thrill us, didn't bore us, the quality of this game will be dependent on the jackpots in place.
Secret Elixir – 3 Stars
With 12 free spins and a 20x multiplier on each of those, we suspect this charming alchemical slot will grab our attention quickly. If, of course, it doesn't destroy our budget quickly, which it just might.
Where can I play these new Novomatic mobile slots?
We've only found one mobile casino that we feel we can recommend who currently host all the Novomatic slots for mobile phones and tablets.
StarGames is a beautiful online casino who have only Novomatic games in their portfolio, but get them way ahead of everyone else. Their mobile platform is a little simple, an extension of their online casino rather than a casino in it's own right, but all the games above can be played easily and beautifully no matter where you play.
So register, click 'deposit' and you'll be able to see your 100% up to $€£100 bonus waiting for you. If you'd rather just give them a test, you get 5,000 credits on registration to try any of their mobile slots for free.