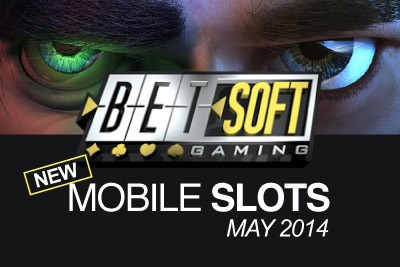 18+
Every month we get a little heads up about the new Betsoft Gaming slots for mobile. And every month we cross our fingers and hope and pray we're not lying to you.
Not because we want to, but because the lovely people at Betsoft seem to view schedules as a passing fancy. What's a month or two between friends?
To be fair to them, we haven't passed one month without seeing new and interesting mobile slots from them, so we really can't complain. And they are getting better. Last month we got promised 3 slots, the brand new Gypsy Rose, the below average Sushi Bar and Heist bonus slot game.
What we got was the last two, but also three more on top we didn't even know were coming; including the different but fun 5 reel Madder Scientist Bonus Slot Game, More Gold Diggin' and Under the Sea. That's more slot releases in a month than any other casino software provider.
So what are we going to get in May 2014? Who knows! But here's what we've been told along the grape vine.
Gypsy Rose… Again?
Gypsy Rose slot didn't come out last month, which means it's bound to make it's way to your online and mobile phone screens in May. Maybe. We've been told it has four unique bonus games. It sounds a little like The True Sheriff in terms of game play, but we have no other details on this one. All very mysterious.
Update 26/05/2014: You can now play Gypsy Rose slot on mobile at Mr Green mobile casino.
 It Came From Venus
An old game, but with some decent features that can allow you to win some surprising in-game jackpots. This 30 payline video slot come packed full of bonus games (it's a Betsoft game after all) including random wilds, sticky wilds, free spins, collapsing wins… action a'plenty. Also we like man-eating plants. More fun than fluffy bunnies.
SugarPop!
We've been promised this slot machine on mobile since the dawn of time. Or since last winter when it came out online and it was due out for Android and iPhone in January. Then it was March. Then they hummed and ahhhed and we never heard anything else. Now it's coming in May apparently. Are we excited? Only if we found a time machine and went back six months.
What's SugarPop slot like? Think Candy Crush but you can bet on it. A little different and definitely more suited for the casual gambler.
Update 02/07/2014: You can now play SugarPop slot on mobile at Mr Green mobile casino. (better late than never)
Dr. Jekyll & Mr. Hyde
This one is a brand spanking new slot. And we mean new, new, as in; will be out on the online and mobile casinos at the same time. However with Gypsy Rose late release we'd bet out big brown boots that this one won't come out in the same month and will be out in June. We stuck it in because it's always nice to have something to write about.
Not that we know much about Dr. Jekyll and Mr. Hyde other than it will feature Betsoft trademark graphics and that:
"The sweet Dr. Jekyll hides a secret: a monstrous side he keeps hidden away. Try as he might, he cannot contain the monster within. Enjoy this classic story in our upcoming Slots3 release."
That's a direct quote from Betsoft folks. No, we weren't too impressive with the very vague and unhelpful description either.
If you are looking for great Betsoft Casino the excellent Vera&John is giving away 10 free spins on Starburst no deposit and 100% up to €£$500 on your first deposit.