Two years in the making, the highly anticipated sequel to the original Microgaming slot Avalon, has finally been given a launch date.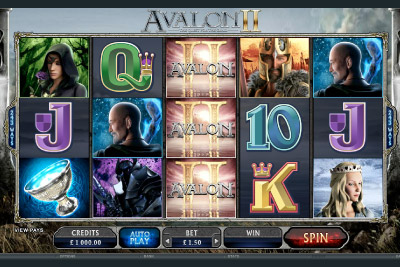 18+
Avalon II… oh how those whispered rumours have been hanging in the online slots gambling world! It's been in production for longer than a Hollywood movie and seemed as difficult to find as the mystical holy grail itself. Yet finally, after years of waiting, Avalon II is coming to a Microgaming casino near you.
If you have no idea what we are talking about, chances are you are not a fan of the original (and excellent) Avalon mobile slot. The online slot has been around for a few years now (2006? We think?), so it's a classic in the video slot world.
But forget all that. Even if you've never heard of the original Avalon slot, Avalon II is something different. Not to mention that it's quite fascinating to watch how a slot machine comes together.
Avalon II – A 1.38 Minute Making Of Video
Play Avalon II online slot at: Guts, Go Wild and Mr Green online casinos
What Information Can we Gleam From this Video?
Well, it's definitely a 5 reel video slot. But hey, we didn't really expect Microgaming to make Avalon II a classic 3 reeler, let's be honest. So here is what we managed to deduce from watching the video:
It's beautiful. And we mean… whoa. Look at those 3D graphics. At around 1.13 you get to see some of the backgrounds that will feature in this slot, from rainy glens, to cascading waterfalls and sunny woodland. The UK never looked so pretty.
The full title of the slot is Avalon II: Quest for the Holy Grail. So, they are very much sticking with the original Arthurian legend, with England's most famous King that never existed making an appearance, as well as Merlin, The Black Knight and Morgan le Fay. If you don't know who these people are, there's not hope for you. Stop reading, go play on Burning Desire or something.
Following up from this, there is going to be a quest. At about 1.10 you'll see a beautiful old fashion map that no doubt will bring mini-bonus games as you progress through the slot. Microgaming are big fans of a story line you unlock, a la Immortal Romance, and making you earn your bonus games the more you play, as with Thunderstruck II.
It's a 243 ways to win. How did we see this in the video? We didn't but we know from having asked around. Sorry, that was a little sneaky of us. We also know that the max jackpot win is a potential 121,500 in cash. As decent as it's original Avalon slot then.
The Microgaming designer office looks like a fun place to work.
The actor who mimics Merlin to create realistic 3D movement needs to work out a little.
The game play for the Avalon II slot is as similar to it's original as cheese is to chalk.
Oh oh… You are about to Destroy Avalon II Now Aren't you?
Who? Us?
We may or may not be slightly cynical about the next big releases. It's easy to get carried away with all the marketing PR casinos throw at us, and so we counter act that with a healthy dose of cynicism. But we were doubtful that South Park mobile slot would be as great as everyone said it will be, and yet Net Entertainment managed to prove us wrong. So why can't Microgaming?
Well, now that you ask, because Microgaming have a habit of making everything sound amazing, and then not delivering. Look at the the latest Batman movie slot release; the Dark Knight Rises. Looks beautiful, but at heart, it's can be a fairly dull game. No amount of pretty graphics can change that.
So will Avalon II be all pretty and no substance? It's far too early to tell of course. But before we jump on the 'it's going to be amazing' bandwagon, we would like to see a little more of the game play please. Bright side, we are fans of the 243 ways to wins slots & the jackpot amount being the same as the original mobile slot bodes well. It's been in production for two years, so we hope they took as much care in the details of game play as they did with the graphics.
Meanwhile, of course, you can always start enjoying the tale of the Lady in the Lake by playing Avalon at Jackpot City, GUTS Casino or Leo Vegas.