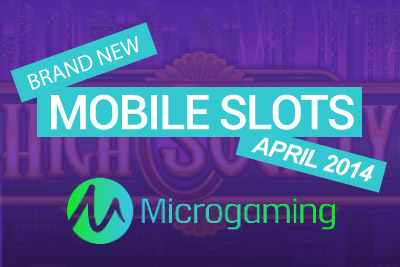 18+
Let's be honest, getting new Microgaming slots to play on our mobiles every month is no surprise. This casino gaming software giant knows that us gamblers are fickle creatures, always on the lookout for something new and exciting to play.
If you've been reading our stuff for a while (good for you!) then you'll know that every month we release our 'here are the new slots from Microgaming for next month'. And every month we complain that the best they can do is release old slot games from their portfolio and turn them into slots for mobile and tablets.
Not this month folks. Not this month. In April we will be singing a different tune as we are genuinely getting a brand new release coming on mobile and online at the same time. The game in question? High Society video slot. Now the question becomes… are we getting excited for nothing?
Eagles Wings
Well, we wont' start with the exciting one will we? It's all about building the anticipation and letting you stew in your own juices a little. Of course you could skip down to the next game but that would be cheating and you'll miss all our wonderful wit.
Eagles Wings is not the video slot we are excited about. This one came out online back in March 2011 and is, whilst not bad, your standard Microgaming slot fare. 5 reels, 25 paylines video slot, Eagle Wings will have you soaring above the vast mountains and planes of North America as you become one with nature. Maybe.
More likely you'll simply trigger the free spins, which is what this high flying slot machine is all about. The main selling point is that you'll trigger an impressive 60 free spins when you land three scatters or more.
That's the maximum of course, with, we suspect, the random pick giving you more like your standard 15-20 free spins at a time. Still, these come with a 3x multiplier, so if they hit frequently enough, we certainly won't complain. Plus, you'll find stacked wilds throughout the game.
All in all, a solid choice for a medium volatility slot from Microgaming, if not particularly innovative in theme or game play. But hey, it will probably still be a three to four star slot review, especially if the theme appeals.
Overall Expectation Levels: 3.5/5. Why not hey?
High Society
The joker in the pack, we have absolutely no idea how good this new mobile slot is going to be. Isn't that brilliant? Half the fun is in the surprise after all.
Ok, we do have a few clues that might help make up our minds, which we will share with you.
A luxury theme
Much like Mega Fortune, Monte Carlo or Pure Platinum slots, themes about living the high life are fairly common. After all, isn't that why so many of us gamble online? To one day own a yacht off the Mediterranean coast? No? You do it for fun? Oh. Ok. Just us then…
High Society theme is mostly around money. Sure you have your luxury planes, yachts and automobiles, but the rest is all gold bars, platinum, coin bags, diamonds and wads of cash. Set on a rich dark purple background, it's not as impressive as the other slots we've mentioned above. More Russian Mafia than enjoying the fun of being rich.
Expectation levels: 2/5. Meh. 
The numbers behind the facade
Thank-god then, for the numbers hiding in these reels. High Society mobile slot promises to have a possible jackpot amount win of  107,100 in cash. However, it's about mid volatility, much like Eagle Wings, which is our favourite type of slot.
It means the in game bonus features will hit every 20 minutes or so, keeping us on the edge of our seats for a big slot win. It's all about the free spins round, as usual, only in this case you get to pick whether you want random multipliers (up to 10x) or expanded wild covered reels.
This choice will undoubtedly lead to some interesting choices and tactics from players.
Expectation levels: 4/5. Bring it!
So all in all High Society may be redeemed from a badly concocted theme by some interesting numbers backing up the game play.
Where and when will I be able to play?
At all good online Microgaming casinos of course, coming to you in the first couple of weeks in April. Sorry we can't be more precise, but different mobile casinos will add them at different times.
Go Wild & Jackpot City will no doubt get both these game as soon as they are released, so they are a very safe bet.
If a casino offering Microgaming casino games only is not for you, Guts Casino have reliably put new mobile Microgaming slots up fairly quickly and is also an excellent choice.