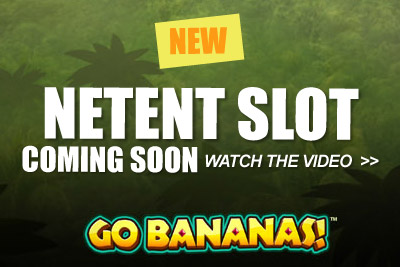 18+
Update 24/09/2014: You can play Go Bananas slot online at: Guts casino »
Who doesn't love a bunch of pastel shaded apes and monkeys throwing bananas at you constantly? Not you, you say?
Well, we have bad news, the new slot Go Bananas from Net Entertainment will not be your cup of tea. A curious mix of similar graphics as the Fisticuffs mobile slot but with the colour scheme of the popular online game EggOMatic, we're not sure what to make of this new wild filled release.
Because this little baby is all about the wilds. Baboon wilds, gorilla wilds, Orangutan wilds, Langur wilds and Tassier Wilds. No, we are not ape experts, we got told by NetEnt that those are the names for the white monkey and little brown monkey. So now you know too can sound super smart (read. geek) to your gambling friends.
All right, let's put all this into context and let you watch the video so you can see what we are talking about.
Go Banana Video Slot Preview:
Ok, so now you have the same information we do. Let's make wild accusations based on the little information we have.
Another slot machine with just wilds?
NetEnt do this once in a while, release games that concentrate mostly on the wilds and no other features. The best example of this machine is Magic Portals video slot, which may not be for everyone, but those wilds and free spins combination makes it a winner in our books.
Somewhere in the middle you have the colourful but only good for short entertainment slot Disco Spins. And even that had some free spins again to pick up the pace.
Then, on the other end of the scales you have those machines that only have wilds to entertain. The likes of the aforementioned 'meh' Fisticuffs and the 2014 "marmite-like but mostly forgotten" Wonky Wabbits; a game you either loved or hated, but very few had much to say in between.
So, overall, this isn't a good start for the Go Bananas slot which boast 5 wild features, but nothing else. But we are not killing it out of the running yet. Let's look at some of the numbers.
Good betting range, decent RTP, fun theme
Because ultimately we like to think that we are silver lining type of people, let's look at some of the positive hey? This 5 reels, 20 payline slot allows you to bet as little as 0.20 to 200 a spin, and a huge variation in between with 1-10 bet coins.
So whatever your slot strategy might be, increasing or decreasing your bet is no problem and the limits should please all manner of players.
The return to player rate is almost 97% at 96.9%, which makes it on par with the likes of Starburst. Add the fact that you can expect to hit a win around 30% of the time, and this looks like a decent paced low variance slot machine.
Finally you have the fun and slightly ridiculous theme. We like games that don't take themselves too seriously, so the theme was right up our poop flinging alley. Sorry, pretty sure we were meant to say banana there. Maybe.
Just a shame about the other numbers
The absolute max win that you can get here (we assume a screen full of wilds) is 700x your bet.
Now that's not bad grant you, but when you imagine that the chances of that happening are the monkey equivalent of finding a real life Tarzan (ie. winning the jackpot), that means that big wins in this Go Bananas slot game will be quite a bit lower than that.
So, we are talking low volatility. And with no multipliers or free spins to catch our attention, will these five monkey wilds be entertaining enough to keep us playing? Or, will there repetitive actions as they show up on our screen, giving us peanuts rather than jackpot sized bananas, annoy us rather than thrill us?
In your heart you probably know the answer to those questions.
Last but not least: it's not going to be mobile
AAAAARGH!!! GRRRRR!!! Why NetEnt? Why? Is it because we are saying we are not that excited about this new slot? Is that it??? We'll lie NetEnt! We will! Just give us more new mobile slots!!*
As to the rest of you, Go Bananas video slot will be online only. That's a new thing now where NetEntertainment do not release any new games to mobile, only old ones. So, needless to say, we'd like to go bananas at someone right now, but we are far too polite to do so.
Instead we shall have to simply look forward to the brand new and far more exciting South Park: Reels of Chaos coming out in October.
When and where can I play Go Bananas?
Go Bananas online slot will be released on the 24th of September 2014.
All good NetEnt casinos will no doubt upload it as soon as it's ready, so you might as well head over there now, get playing, and wait for that email announcing the brand new Net Entertainment game:
Vera & John: 10 free spins + 100% bonus
Leo Vegas: 200 free spins + 200% bonus
Guts Casino: 100 free spins + 100% bonus
Have fun monkeying around.
*Disclaimer: we lied. We won't lie to our readers, just you. But we will buy you lots and lots and lots of bananas for your office. Maybe.