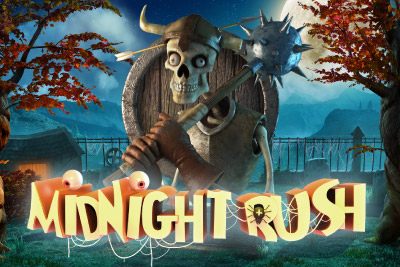 18+
Midnight Rush is one of those online slots that made little splash when it first came out, but has gained a reputation for some high octane fun since. This is namely due to the multipliers which now pepper so many of the new Sheriff slots, allowing players to win bigger and bigger.
Midnight Rush is no different, with a random multiplier providing a little extra thrill of excitement with every spin. Add to that free spins, expanded wilds and a click me bonus feature and what do you get?
A video slot we are pretty sure will work better online than on mobile.
Wait. What? But… It sounded like an exciting mobile slot?
5 reels, 9 paylines 3D animated, Midnight Rush mobile slot has a lot to live up to. Past releases from Sheriff Gaming have been mixed at best and the more features you add does not necessarily a good mobile slot make.
Two things will make this video slot stand out however. The graphics of course, will be as bright and ghoulish as Sheriff Gaming will be able to make them and they will be well presented. Of that we have no doubt. The theme, with werewolves, mummies, Dracula and skeletons would have been far more suited for end of October (Halloween) rather than end of November (Christmas), but a new mobile slot, is a new mobile slot and we should just be grateful.
The second and far more interesting news around Midnight Rush is the mathematics behind it. At 96.5% return to player rate, not only is this quite a generous payout, but Midnight Rush was one of the first Medium to High variance slots that Sheriff brought out in 2013. It was created for the purpose of having the occasional big win, which is always a good one in our books. The maximum possible win is 260,000 in cash in one spin. Now there is some impressive maths right there.
So why are we being negative? In all honesty, the online video slot never really caught and kept our attention. So we have to ask ourselves whether the mobile version will change that? Online you have more choice, so perhaps in mobile Midnight Rush will have a chance to shine amongst it's peer, getting a little well deserved attention.
If you want to go and play on the Sheriff mobile slots and see what the fuss is about, Guts, and Video Slots mobile casinos all have this slot in their portfolio.
(PS: High five to us for not making any spooktacular bad puns about wanting our mummies or what a boo-tiful slot this is. Yeah!)