NextGen Gaming have officially released the very first images of their brand new Hitchcock inspired Psycho slot. Let's have a look and start judging.
Now here is a NextGen video slot we can really get excited about. And we are not just saying that because we were less than excited about the new upcoming Holly Madison slot.
Ok we are saying that, a little bit, but what we are really saying is that things are starting to look interesting for the Australian slot software.
First the excellent 2014 Judge Dredd slot and now, in a surprising twist, it looks that NetEntertainment are not the only ones to have a licensing deal with Universal Studios.
NextGen are upping their game. Again.
What we know about the new Psycho video slot
Not a huge amount. It's still very early stages. But here is what we know for certain.
It's a video slot with 5 reels. (This is good investigative journalism right here, we know.)
It will based around Alfred Hitchcock's classic 1960s thriller.
It will be released in the first quarter of 2015. So by the end of March at the latest.
This may not sound like a lot, and that's because it isn't.
Want a great NextGen Casino bonus?
Get £€$700 in bonus money over your first 3 deposits at LeoVegas
But we do have access to some preview images, which will allow us to make wild suppositions about this Psycho slot game.
Word of warning readers, we've been  told that these are early in-game screenshots, and they may be subject to change.
"Psycho's infamous scenes married with NextGen's proven premium, repeat play slots expertise will make for a chilling winter blockbuster title." David Johnson, Commercial Director at NYX Gaming Group.
Also, if you've never seen the movie, then first of all… what??? And go see it!!… but needless to say: spoiler alerts.
There's a vacancy at the Bates Motel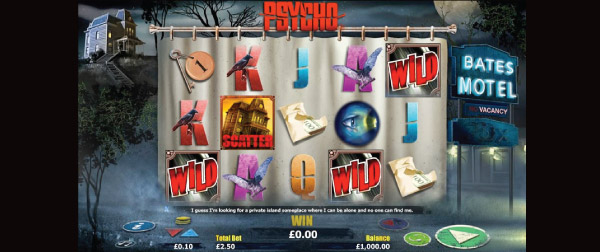 With Norman Bates house looming on a foggy, starlit night, the sign at the Bates Motel clearly shows a vacancy for any dazzling blonde, with embezzled money, who would like to take a warm shower, undisturbed.
Ha!
Though we don't get an awful lot from this screenshot, we are loving the look and feel of this online slot! That classic drawn look is more reminiscent of the 1960's than the black and white movie, but there's certainly enough character charm to bring the original story alive.
Special kudos to the shower curtain reel background. Awesome.
It's going to get wild and wet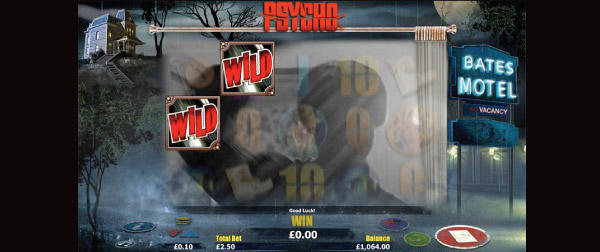 If we had to make a lucky guess, we'd say this image represents a wild bonus feature, whereas you either get sticky wilds, or extra random wilds.
These more than likely show up via the shadowy he-she knife wielding figure who, upon removing the shower curtain, stabs wilds onto the screen.
Or at least, that's how we would do it. But then, our imagination get's the better of us on most days.
Stabby, Stab, Stab… Stab.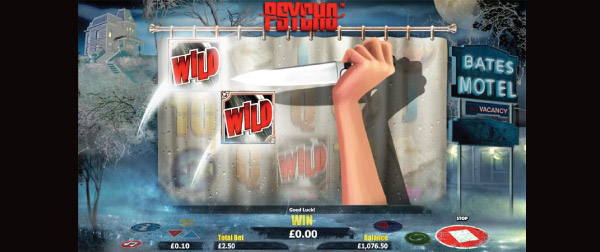 We promise, we hadn't seen this screenshot before we wrote the piece above. Instead, we had a screenshot of the game during the day time (the aftermath of the killing), which seemed to imply a free spin feature with multipliers – though more on that in the picture below.
But, overnight, NextGen Gaming changed the image, perhaps because this is one is more visually interesting.
That said we can now pretty much confirmed that you do get additional 'stabbing' wilds during the base game. We suspect they are triggered randomly.
We'd also like to point your eye toward the little gamble button on the  bottom right hand side of the screen. We do like a good gamble options, but rarely see them on NextGen mobile slots.
The tension increases…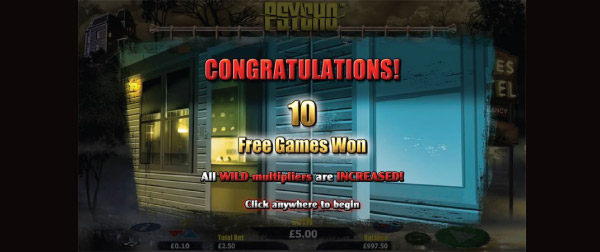 Though graphically this is the least interesting of all the screenshots, it's actually the one with the most information (if it stays true).
So we know you can win at least 10 free spins. That's about standard for a good NextGen game.
More interestingly is the phrase "all wild multipliers are increased".
That seems to imply that:
The wilds come with multipliers anyway in the base game
In the original daytime screenshot that NextGen took away from us, the multiplier had a x6, which could be the max amount.
To get the big wins on the free spins, it's no doubt going to be all about the wilds
Our excitement level?
We are preparing our basements to store the leftover remains of dear mama as we speak.
The Psycho slot game looks beautiful, and it captures that chill of the original thriller, whilst still having a little tongue and cheek at a classic movie that no longer scares as much as it use to.
Will it rival the film noir look of the NetEnt / Universal slot The Invisible Man? Close. Very close.
In fact, it's probably the only one of NextGen slots that matches that hand-drawn look that makes it refined, rather than silly, as with so many of it's other creations. (ie. Wild West slot or even the brilliant 300 Shields, at times)
What might dampen our mood
There is no news yet, whether this game will be released on mobile phones and tablets, Android or iOS, at the same time as the online slot, or even at all.
Needless to say, all the images released so far have been online screenshots.
But it's still early days.
We are crossing all our knives and blades that it's in the pipeline. They'd be mad not to.
But as Norman Bates points out in the movie; we all go a little mad sometimes.
Time to sign up to a great NextGen casino whilst you wait for this new slot release.
Start Playing at Guts »
Get €300 Welcome Package + 100 Free Spins
T&Cs Apply