We've got an exclusive look into the new GTA V inspired slot game by Play'n GO, due to be released on February 24th 2015. What, exactly, are we getting?
We don't have a huge amount of information about this brand new Pimped slot. We've been given a screenshot of the game, and some artwork, as well as a couple of lines to describe what it's going to be all about.
But since when has that stopped us from writing about an upcoming slot release?
Making wild supposition about forthcoming mobile casino games is what we do best.
So, seeing as we have such little information, let's start with the image of the reels and then continue by breaking down every little bit of snippet of information that we've been given by the lovely people at the Play'n GO slot studios.
The first ever image of Play'n GOs Pimped video slot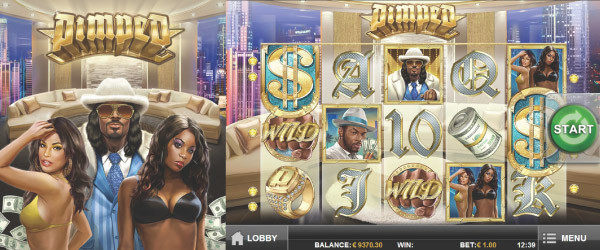 Look at them hoes, with those sultry 'come to me' eyes and the gentleman in the background who we can only assume is their… daddy?
Yeah, we're not black enough to get away with this. So let's move swiftly on to what we know for sure about this new slot game.
Art inspired by the Grand Theft Auto V style
You know what? We can totally see it. It has that stylised look that's part video game, part comic book, part realism.
Get up to £€$700 Bonus
Make your money go further and get up to £€$700 in bonus money over your first 3 deposits at LeoVegas
And when we say 'realism' we are stretching the word to mean 'life-like characters', rather than implying that we live in the penthouse suite surrounded by half-naked women and piles of money.
That would be ridiculous. Clearly we keep the money under the mattress, where it's nice and safe.
Though if we are going to be honest, this theme reminded us a bit more of Microgaming's Loaded slot than GTA. They have similarly scantily clad women in a game that's more about rap music, and that world, than any true criminal activity.
Bling and hiphop music
But, Play'n GO are merely borrowing the GTA V art style to bring to life a well known theme. Luxury at it's "blingness", this is all gold chains, diamond signet rings and wads of cash in a pimped out pad.
They've promised to add some hip hop music that will make you twerk your booty and keep playing those reels.
And is it just us, or is that Snoop Doggy Dog hiding under the white fur hat? Which would make the other guy… Dr Dre?
5 reels and… paylines? But mobile, definitely mobile
That's right, we have no idea how many paylines this Pimped slot game is going to have.
We want to say 15 paylines, but only because the laws of averages is on our side, seeing that one in three games from Play'n GO are 15 paylines.
That said, as with all their releases, you can expect Pimped mobile slot to come out at the same time as the online version. And much like every one of their other games, you'll be able to play it in both portrait and landscape.
It's to be released on Android, iOS and Windows Phones.
"WinSpins" free spins guarantees you wins
What does that even mean? Excellent question. We're not 100% sure.
15 Free Spins on Twin Spin
No deposit bonus at GUTS Casino for UK, Australia, Sweden, Norway & Finland
We know that three scatters trigger the free spin bonus feature. We suspect that the scatter is the big dollar sign you see in the reels above you because… what else is it going to be?
The wild is clearly marked out, and so that leaves the scatter.
Once you've triggered the free spins, it will trigger what they call the 'WinSpins' bonus game, where you are guaranteed a win on every single spin.
Is it just us, or does that sound like the Raging Rhino slot feature where if you're unlucky during one of the spins, you'll get a 10x your bet win regardless?
We can't be sure of course, but that's certainly what it sounds like to us.
Play'n GO have confirmed that you will be able to re-trigger the free spins using additional scatters.
Overall excitement level?
Pretty excited. Considering we don't know very much about this Pimped mobile slot at all.
But they have certainly done an amazing job on the graphics, even if it is heavily influenced by your general R&B hip hop lavish lifestyle that has become a bit of a cliche.
We won't know what to expect for sure until the 24th of February, when this slot machine will be released at all good Play'n GO casinos near you.
So where can I start playing?
There are a few casinos we like to recommend for these types of slot machines. If you want to get a crash course in Play'n GO whilst you wait for Pimped, we'd recommend you try the excellent Wild Blood, the beautiful Enchanted Crystals and the incredibly quirky Golden Ticket.
Here's the top Play'n GO bonuses to get you started:
€£$300 in bonus + 100 free spins at Guts casino
100% up to €£$500 in bonus at Vera & John
€£$700 in bonus + 200 free spins at Leo Vegas
Happy spinning!
Start Playing at Vera & John »
Exclusive: 20 Free Spins + 200% up to €100 First Deposit Bonus
T&Cs Apply