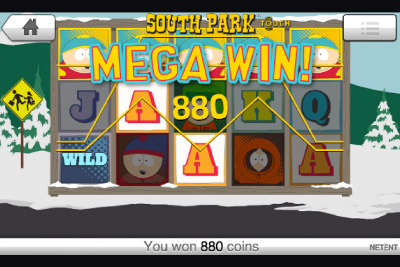 18+
UPDATE 18 Sept: South Park is available to play NOW on your mobile at Leo Vegas we recommend you head over there and take a look or read our newly added review here.
We knew that NetEnt had been planning to release the new South Park slot in September. We were pretty interested, but it's not till today that we got particularly excited when we heard that for the first time in NetEnt's history they will be releasing the mobile game at the same time as the online version.
Now why is this interesting? For one, we are pretty sure that South Park is going to be NetEnt's biggest release of the year, so it makes sense for it to go mobile at the same time. Two, it shows that NetEnt is getting more and more committed to increasing their portfolio of mobile slots and games. And last but not least, we've heard along the grapevine that there are two more mobile releases planned for October, but we'll confirm that once we know for sure.
All in all, good news for us mobile slot players.
Meanwhile, back in the crazy town of South Park…
Back to the slots at hand, what can we expect from the Mobile Touch South Park slot? Features. Lots and lots and lots and lots of features. Hunt Hippies! Kill Kenny! Kick the Baby! Sticky Wilds! Free Spins Galore! Singing Poo! Expanded Wilds! Random Wilds! Fart Jokes!
In case you mistook our overly enthusiastic exclamations for actual enthusiasm, please read it in the sarcastic manner we meant them.
Why are we raining on NetEnt's parade? For one, whilst we enjoyed South Park when it first came out, our interested vane about 10 series ago (there are 16 series in our last count). Sure, we still catch the occasional episode if it happens to be on, but to be honest, It wasn't until this slot appeared on our radar that we went: "Oh yeah. South Park. What happened to that?"
So the theme might bring up the occasional smile of reminiscence and the sudden urge to catch up on an episode or two, but it doesn't bring the thrill that you would expect. The jokes might be funny on TV, but we wonder if hitting the features over and over again might make the vomit and fart jokes get old, fast.
That said, the inner child in us is looking forward to finding out in what wonderful and inventive ways they'll keep killing Kenny.
But will the features be worthwhile?
Now that's a different story. The return to player rate is 96.7%; a high hitting number we like to see. We suspect (although we don't know for sure) that due to the high amount of features and based on the paytable we've seen, this is a low volatility slot, so it will pay out often and fast, but not necessarily huge.
Yet interestingly enough, that doesn't mean that the possible amount you can win will be low. Looking at some of the stats, the Cartman bonus will be the one to really watch out for, as he Hunt Hippies and potentially gives you a maximum win of €625,000. The "Try Not to Kill Kenny" mini-game is the second biggest hitting potential with €69,500 up for grabs.
These are not small amounts. These are potentially huge life changing sums.
The South Park brand picked our interest, the fact that it will be launched on mobile got us excited, but it's the numbers behind it that really got us hooked.
Too Bonus Heavy for Mobile?
South Park is a 25 Lines, 5 Reels Bonus Heavy Mobile Slot. How will these features, which rely so heavily on original sounds and graphics to distinguish it from the pack, fare on the smaller screen? Especially as this medium is so unforgiving to slow slots?
Hard to say yet, but considering the features at hand, they might oversimplify it and lose half the appeal, or worse, try and keep them all and make it unplayable. We are hoping that NetEnt might yet surprise us all (which they often do) and pull another brilliant and distinctive classic out of the bag. We shall have to wait and see.
If we take away all the bells and whistles, the main features include:
Free Spins
Wild substitutions
Sticky Wilds
Bonus Games
Bonus Spins
Mini-Game Features
We don't have the mobile version, but here's a video of the online version instead:
What do you think? Fail? Win? Is this a slot you'll be playing in a couple of weeks time?
We know that despite our original misgivings, we have the 24th of September marked in our calendar ready to test out the South Park (Touch) mobile slot as soon as it comes out at our favourite casinos.
Meanwhile, you should head over to Vera & John, Leo Vegas or Mr Green? All NetEnt casinos who can give you plenty of choice from the unique game provider.
Or if you fancy finding your perfect NetEnt slot, search through all our NetEnt Slots here.
Update 16/10/2014: You can also check out the second instalment of this slot machine South Park Reel Chaos, available to play at top casinos.