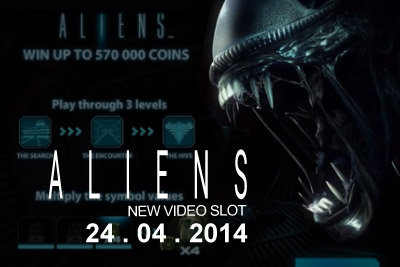 18+
Back in February we wrote about how NetEnt's release of the year was undoubtedly going to be their April slot, Aliens. We also wrote, and we quote:
"It's unlikely to be mobile straight away on release, but will undoubtedly make it's way to mobile a month or so later."
We have never been happier to be wrong. Not only will the new Aliens Touch come on general release at the same time as it's online version, but we have this feature filled video from Net Entertainment showcasing a little of what you can expect from this genuinely dark and scary tablet and smartphone slot.
Update 17/04/2014: It's now out and face hugging mobile screens over at Leo Vegas casino or read our Aliens slot review before you start playing.
So turn off the lights, put this Aliens slot video on full screen and try not to jump:
What do you mean you weren't scared??? Ok fine, we are big pansies when it comes to horror, and especially about James Cameron phallic shaped acid bleeding killer monster. When you're 11 and decide this is the film to watch you don't consider the consequence of years of nightmares to come.
What can we gleam from the video?
They've certainly kept to the original blockbuster movie theme and graphics
It's a 5-reel, 3-row, 15-line video slot
Shoot / Spin your way through multiple levels of alien infested reels.
Basically a mini game where the reels are your controller through the alien world
Get to the hive, kill the queen, win a jackpot
One thing is for sure; NetEnt Touch slots are moving as far away from their usual cute and sparkly mobile slots as can be. The only way this resembles the likes of the bright South Park or cool Twin Spin is that it has reels and paylines.
What we know that you don't
Oh we could fill a book… nah, only kidding. This isn't the place where we insult you about our superior knowledge of all things slot gaming related. Because frankly, it would be karmic fate that some NetEnt slot developer will read this and comment about how wrong we are about everything.
Plus, as we mentioned, we started this with us being wrong about our last predictions, so we are in no position to be smug. However, we have can make wild deductions based on the little information we've been given and hope we get at least one right:
The return to player rate is going to be a decent 96.4%
Looking at the pay symbols, it's likely to be low to medium variance slot
The default maximum win on single line bet is going to be 90,000 in cash – double that as the total amount winnable. Not a bad payoff.
It's going to be damn near impossible to kill that queen and you'll sacrifice many brave soldiers (ie. coins) to do it. You've seen the movie right?
So all in all, we are as excited as a baby alien breathing its first bloody chest bursting breath.
Our only big worry is if the mini games become a little too complicated for the more casual slotter, but that's a worry for another day. The 24th of April in fact.
If you can't wait for Aliens slot to be out on mobile, why not head to one of our recommend NetEnt casinos? You get 10 free spins on Starburst at Vera John and Guts casino give away 100 free spins with no wagering.