So we have a list of possible new slot games coming out by Betsoft Gaming in 2015. We'll tell you all about it, but promise not to take it too seriously.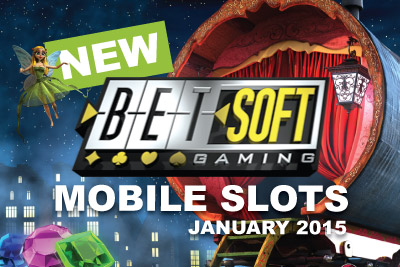 18+
We haven't done a 'new Betsoft mobile slot games' list in a while. The reason is simple; they are possibly one of the most unreliable casino software providers around.
Oh they bring out new games, that's for sure, but it's not always the slots they promised, or even for mobile at all.
However, we are going to put our neck out and say that we will get at least two new mobile slot games this January 2015. The reason for this is that the last mobile machine they brought out was the fairly entertaining Once Upon a Time slot, but that was back in October 2014.
So they either had the longest Christmas break in gaming history, or we are due something special soon.
The two we think we are going to get
Now, we should point out that the reason we think we'll get these is because they are already out as online slots. So the process of making them worthy of your Android or iOS device is a little easier.
Get up to £€$700 Bonus
Try Betsoft slots with £€$700 in bonus money over your first 4 deposits at LeoVegas
Enchanted slot machine
In looks and style it reminds us a little of the Greedy Goblins phone slot, but without the jackpot. It's all fairies and wizards and ogres, sitting in an enchanted forest of 30 payline and 5 reels slots.
We've never spent a huge amount of time on the Enchanted online slot and for good reasons. It's very low variance, has no free spins and quickly gets 'samey'.
That said, fans of Betsoft will enjoy the multiple bonus features they are so famous for, if not quite the same level of graphics of their more recent releases.
Mega Gems mobile slot
We're not fooled Betsoft. We recognised this machine the moment we took our first spin. With the graphics and gameplay stolen straight out of Starburst Touch, this is just another copy.
We say 'another' because technically they've already created a copy with the Boomanji slot machine. The only difference with that one was the theme was fireworks instead of gem bursting dazzleness.
This Mega Gems slot, on the other hand, steals the theme as well, with expanded wilds with the free re-spins, pays both ways, 5 reels and 10 paylines. Can it bring anything new to the table?
Yes actually, it can, with a progressive jackpot added in to make things a little more interesting.
It probably won't replace Starburst, but it is certainly an interesting alternative for those looking to move away from NetEnt's most famous son.
The two new Betsoft games we hope we'll get
There are rumours and murmurs that Betsoft will be bringing out two brand new slot games in early 2015. So whilst we can't promise both will be out in January 2015, we suspect we'll get at least one.
£€$300 Bonus + 115 free spins at Guts
UK, AU, FI, NO, SE: 15 free spins on Twin Spins
100% up to 100 + 50 free spins
50% up to 100
50% up to 100 + 50 free spins
It will probably be Pinocchio
Betsoft have been saying they will be bringing out the Pinocchio video slot for the last 4 to 6 months. So if any 'new' machine is due, it's Pinocchio.
We don't know an awful lot about it. It's not a classic slot, despite the classic tale it's based on, with 5 reels and (as we are gambling wo/men) 30 paylines.
We don't know if it's going to be 30 paylines to be honest, but seeing as 80% of their video slots online are, it's a pretty safe gamble.
The blurb about this new slot game states that it will have 'multiple game levels' with 'unique features' including 'fairy re-spins', 'wandering wilds' and more…
The 'unique' will have to come from the 'more' part of that statement, because re-spins and wandering wilds are certainly not that rare. Still, the multiple game levels might imply it has a Sugarpop slot feel about it, which was unique when it first came out.
But could it be Event Horizon?
We know even less about this brand new Event Horizon slot. We have seen the logo which uses the exact same '7' as NetEnt's Twin Spin and even similar colours and background.
And we don't want to be cynics, but Betsoft clearly like to pay homage to NetEntertainment.
If you don't know what homage means, it's a nice way of saying "Hey, that works. Let's copy it! But only a bit. And respectfully."
They are hardly the first casino games software to like making copies, and to give them credit, most of their slot machines are more Betsoft than anyone else. They have a style and slot gameplay that no-one else has.
But Event Horizon, with it's classic slot machine symbols, is a little too close in looks to be a coincidence. Though we could be wrong. Like we said, we know nothing about the game-play.
Let's wait and see shall we?
Where can I play when they come out?
There are two Betsoft mobile casinos that we usually like to recommend.
Mostly because they actually release these new games when they come out, rather than a few weeks or even a few months later.
Guts Casino: Try Twin Spins with 15 free spins on registration + 300 in bonus money
Vera&John: Get 10 free spins on Jack & The Beanstalk + 500 in bonus money
Might as well register and you'll be able to see if we got our prediction right or wrong.
Quick tip: UK players, you currently also get £5 when you register at Vera & John + 30 free spins on Betsoft's Boomanji after your first deposit.