Play'n Go have just given us the news that we will be receiving a brand new mobile slot on the 6th of November 2014. Find out what it's like and if you will you love it.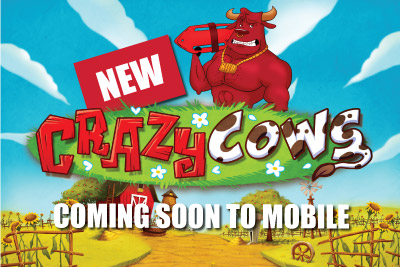 18+
Update 6/11/2014: The new Crazy Cows slot is now available to play at Leo Vegas mobile casino here »
Play'n Go have been on a roll recently. Hot off their big new slots release Pearls of India, they put out the surprisingly good, but different, Golden Ticket slot.
But this isn't about Golden Ticket. This is about yet another new mobile slots release coming as soon as the 6th of November and that game is the interestingly titled Crazy Cows slot machine.
Before we go into what this new game will be like, we should mention that as this is a new Play'n Go game, expect certain things. Namely, you'll be able to play it in landscape as well as portrait mode, you'll get it online at the same time as on mobile phone and tablet, and it will work on every device we can think of. And we have to think about a lot of devices, a lot of the time.
So whether you're looking for a new Android slot for your Samsung thingymabob, or perhaps want to double play on your iPad and iPhone simultaneously, or even finally find a good Windows phone slot, at least here you have something to look forward to.
Well maybe. Let's not get too ahead of ourselves.
So what this Crazy Cows Mobile Slot Going to be About?
You can read the full Crazy Cows slot review here or read on for an overview.
It's a deep, dark tale of woe about the crazy lengths that the female of the species will go to in order to impress a man who is clearly not good for her. Yet despite knowing in her heart that he's no good, she sticks with her philandering handsome man in the hope that one day he will come home to the one woman who truly loved him.
What you don't believe us?
This animal farm yard slot may not be quite as dark as we make it out to be, but our description isn't that far off. What you have here is a bunch of girly cows, all fighting for the heart of Bill the Bull.
Nowhere is it more clear to see how desperate these happy bovines happen to be, as they literally throw themselves off the roof of a barn in a dunking contest to impress the ripped surfer dude bull, who in our opinion needs shorts.
Humanising him and strategically making sure his legs covers any 'boy' part just makes the imagination go down strange places. Then again, perhaps it won't be as obvious in the game itself?
The official line:
Here's how Play'n Go slots provider describes the Crazy Cows video slot:
"When the cow bats her eye as the big bull struts by, that's a-moo-re! There's bovine love in the air in this udderly cowmical slot from Play'n GO. Drive in the moolah on up to 15 lines by herding in prize-winning cattle."
Ok, we like 15 payline slot machines. They tend imply a higher variance of game, meaning big wins. Let's see what else there is to offer.
"Bill the Bull is wild and cowmpletely irresistible! He'll help you charge after winning combinations – especially on the middle reel, where he'll flex his muscles to cover all three positions."
Cowpletelely… hehe…
Ok childish humour aside, an expanded wild on the center reel is always a welcomed addition to any game.
"When two pieces of the broken heart pendant flank Bill, he'll bullheadedly stand ground while you take 5 respins."
Wait. This is starting to sound strangely familiar…
"Three scattered barn symbols trigger the bonus round. Choose one of three gorgeous cowntenders to dive off the roof into the water trough." … simple click me games… "If the provincial pooch likes her style, you can win both cash and free spins!" … free spins with instant cash… "Prizes on free spins are doubled and can end up quintupled if you can get the farm dog to come on command"…. with a 2x multiplier on the free spins AND up to five time multiplier?
Holy crap, this is an exact copy of Enchanted Meadow slot game.
It even has a return to player rate of 96%.
Why this is a good thing
Enchanted Meadow is easily one of our favourite Play'n Go phone slots. It is, by all definitions, enchanting.
So getting a version that's a little more guy friendly, in the form of some barnyard antics, is no bad thing. Play'n Go certainly won't be the first to re-skin their more popular games in an effort to find a bigger audience. After all, Golden Ticket was simply a newly themed Energoonz, one of their most popular slot games online.
Sure, we would have maybe liked something a little different, but finding a unique mobile slot these days is like that mythical bear in the woods. You know he uses it as his toilet place, and unless you're an avid bear / slot watcher like us, chances are you rarely actually see it, and when you do, it's by chance.
And to be fair, Play'n Go are good, but not always well know. So chances are you have no idea what Enchanted Meadow slot even is, so you can go straight to playing Crazy Cows, safe in the knowledge that it's going to be a completely new experience.
Where to play these Play'n Go mobile games
There are a couple of good Play'n Go mobile casinos. The good news is that no matter what, you will rarely find these slots by themselves. There is no such thing as a Play'n Go casino, but rather casinos that have Play'n Go, with also Microgaming, NetEnt, Next Gen.. etc…
Get 200 Free Spins Bonus at Leo Vegas Casino
Get 20 spins free + 180 on deposit and up to £€700 welcome package
So even if you go and only try a couple of the games we've mentioned so far (bonus mentioning Wild Blood as another favourite), you can always swiftly move on to some other providers if you're not satisfied.
But then we won't talk to you again, it will get awkward, blah, blah, blah… so, just, enjoy, ok?
Here's the top two places to go play:
Guts Casino: Get 15 free spins on Twin Spin + 100% bonus + 100 Free Spins after deposit (no wagering on the free spins) at this new Play'n Go casino.
How a moo-licious day.