Update 01/12/2014: The New Game of Thrones mobile slot is out to play on your smartphone and tablets. Start playing it at GUTS casino »
Winter is Coming... And Microgaming is bringing it to a slot machine near you.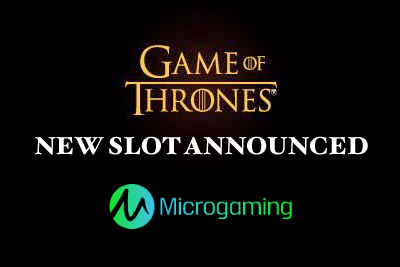 18+
The grandaddy of slots and casino games has recently announced that it will be releasing a new slot game based around the popular and bloody TV series, Game of Thrones.
So what do we know about it? Very little. We went to ICE Totally Gaming conference where we spoke to the Microgaming staff about their upcoming releases. We have plenty to tell you over the next few days, but this one is the one that got us most excited.
We are big fans of the popular bloody TV series based on the best-selling book series "A Song of Ice and Fire" by George R.R. Martin. So imagine our surprise when we saw the Iron Throne of Westeros at their stand. As much as we wish we could tell you all, what we do know is simple: It's going to be a video slot, it's going to be impressive, it's going to blow your mind.
So nothing much new there.
Why Game of Thrones? Why Microgaming?
Well, there seems to be a mutual appreciation society happening here. The CEO of Microgaming, Roger Raatgever stated: "Game of Thrones [is] a highly relevant and extremely popular show."
No kidding. So what will be different about it? "We plan on taking all of the features of the small screen fantasy epic to create a masterpiece of a slot."
We read that as meaning that it's going to be feature heavy, much like the recently released Avalon II slot machine which has an expanded story line and 8 bonus features. Definitely 5 reels, but how many paylines is anyone's guess.
Will online slot players be as excited about it as we are?
Josh Goodstadt, the Director of HBO global licensing (a fancy term for Director of 'no/yes you can use our images'), thinks that it's the perfect fit: "Game of Thrones has a huge global presence online, and our partnership with Microgaming will extend the show's reach into a completely different realm."
Which is PR talk for 'maybe someone somewhere hasn't seen Game of Thrones and we really really really want them to.' Personally we think this online slot machine will appeal more to people like us; fans of the show who can wait to spin Tyron Lannister into drunken tomfoolery or watch the mother of dragons pillage entire cities.
On that we do agree with Josh "We have every confidence that the show's active fan base will be very excited to find another new way to engage with the show."
Will it be mobile? What do we know?
Maybe. You were expecting us to say no, it's not mobile right?
Yes it's true, Microgaming are not very good at putting their latest new slots to play on mobile phones and tablets. They like to wait a while and sometimes just stick to the back catalogue of slot games and forget to put new releases on mobile at all.
However, when speaking to the Microgaming lot, they did emphasis that their 2014 New Year Resolution was to release more new slot games on both mobile and online, at the same time. So you know. We can but hope that Game of Thrones slot on mobile will become a reality.
And surely if you can put the excellent Thunderstruck II on mobile, which boast impressive graphics and features within the game, what's a little fantastical political warfare across 3 continents?
When can we expect the new Game of Thrones Slot?
Season four of the Emmy Award and Golden Globe nominated TV show will start in April 2014. It would make sense, wouldn't it, if Microgaming released it around that time.
If they don't (because hey, it took them two years to make Avalon II) we expect they will take care to create something of equal quality as the beautifully realistic show.
To be honest, we suspect you won't see the Game of Thrones slot game until end of August to early September 2014. Microgaming likes that date for big launch games; that's when The Dark Knight Rises was released for all to enjoy. Just after summer for the upper hemisphere, still autumn for the southern hemisphere, everyone is looking for a little indoor entertainment.
We hope that the sooner the better. Until then, watch this space carefully as we have more new game releases we are going to be talking about very soon…
Love Microgaming slots and games? Go Wild and Jackpot City are two excellent Microgaming casinos. If you like a casino with a little more variety, Guts and Mr Green both provide the Microgaming mobile slots and have a wide range of slot games between them.
Either way… watch this space…